Stephen Fry says BlackBerry Storm2 is impressive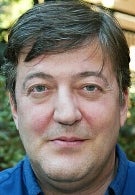 Tech critic Stephen Fry helped stick the proverbial fork into the first BlackBerry Storm model last year. His tweet/review of the 9530 discouraged many potential buyers and became a reminder of how RIM and Verizon rushed out the first touchscreen BlackBerry: "Been playing with the BB Storm. Shockingly bad. I meanembarrassingly awful. Such a disappointment. Rushed out unfinished.What a pity. Yes, I blame n'works more than RIM. Problems are terrible lag:inaccurate t'screen, awful, slow and fiddly text input. I SO wanted tolike it.Plus the GPS maps won't work – issue with BIS connections. I see from forums postings this is widespread in the UK.
iPhone
killer? Ha!"
With this in mind, Fry's review of the new BlackBerry Storm2 9550 is a 180 degree turnaround. He says about the sequel: "Had a play with the new BlackBerry Storm 2 and confess myself vvv impressed." The new model features some major hardware improvements with the SurePress typing system that is supposed to recreate the feeling of typing on a computer keyboard with a virtual QWERTY. The technology on the first model was the bane of many a Storm owner, but has been vastly upgraded with the Storm2. Add to this the software improvements with the BlackBerry 5.0 OS and the 9550 is probably a lot closer to being the device that many BlackBerry fans expected when they purchased the first-gen model last year.
RIM BlackBerry Storm2 9550 Specifications
|
Preview
source:
Twitter
via
ElectricPig