SteelSeries' Stratus XL is an Xbox One-like gaming controller for your Android device
4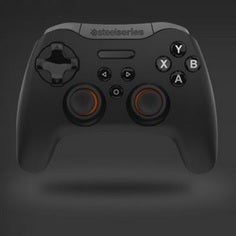 This week, as you'll probably have gathered, has played host to the E3 expo, which is easily the biggest date in the gaming calendar. Major announcements from the likes of Sony and Microsoft have already taken place, but where consoles remain integral to gaming industry, mobile devices have risen to prominence over the past few years. The touch-based environment is great for casual fans concerned with basic genres like physics-based puzzlers, but if you're looking for something a little more cutting-
edge
, a physical joypad is always going to be superior. With this in mind, SteelSeries has unveiled its new Stratus XL wireless gaming controller, catering to Android devices ranging from smartphones and tablets to dedicated Android consoles like the Ouya.
While the mobile gaming market has really taken off through the App Store and Google Play, there's been less enthusiasm for third-party controllers. This is likely attributable to the fact that carrying such a peripheral around is not exactly convenient, and many of
the more compact existing options
don't feel all that comfortable for hardcore gaming. But vendors of third-party control pads could also be accused of overcomplicating their efforts thus far, with limited compatibility having been a major stumbling block.
The SteelSeries Stratus XL isn't bogged down by some of the issues that have afflicted other gaming controllers, though. It takes a very console-esque approach, borrowing much of its design from the Xbox One controller, and with Bluetooth connectivity, should hook up to your PC, Android device, Amazon Fire TV or comparable setup with consummate ease.
There's an 8-way directional-pad, four shoulder buttons and four action buttons -- the typical arrangement of most higher-end controllers. There are two joysticks thrown into the mix as well, along with Start / Select / Home buttons, and LED light indicators.
Not only does the Stratus XL look the part, but it's also priced quite reasonably as well. Dropping next month, it'll cost $59.99 or €59.99. We'd have to test it out before passing any definitive judgements, but at face value, it looks more than fit for purpose.
The question is, would you buy it?