Startup creates a 16-in-1 Android camera called Light L16, predicts the death of DSLRs
43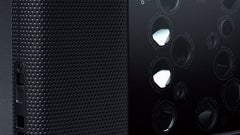 Do not adjust your screens, the title of this article is correct: a very young California-based company called Light announced a 16-in-1 camera to take on DSLRs. What does 16-in-1 mean? Well, the new device - dubbed Light L16 - really contains 16 camera modules, and was designed to give photography enthusiasts DSLR-like photo quality in a pocketable format.
All 16 camera modules and lenses are visible on the back of the L16. There are five lenses with the equivalent of 35mm focal lengths, five at 70mm, and six other at 150mm. Combined, they allow the L16 to provide 35mm - 150mm optical zoom. Whenever you take a photo, 10 of the cameras shoot simultaneously, letting you snap photos of up to 52 MP, at variable focal lengths - so you can adjust the focus and depth of field later. The new device runs an unspecified version of Android - which, being a free and highly customizable OS, seems to be the perfect choice for such a camera. At the moment, full tech specs are missing, but we know that the L16 features Wi-Fi and a dual LED flash, and is about the size of a Google Nexus 6 (though it's twice as thick).
The Light L16 is not cheap, costing about as much as a mid-range DSLR or mirrorless camera. Customers who reserve the L16 before November 6 can get it for $1,299 (after paying $199, with the rest of $1,100 to be paid at launch). After November 6, the camera will cost $1,699. However, it looks like the L16 will only ship starting mid-2016, so you'll have almost one year to wait before you can actually use it.
Interestingly,
DSLRs are "not going to exist tomorrow"
Dave Grannan, Light CEO, told Re/code that "this is how cameras will be made in the future" - naturally talking about the L16. The exec also mentioned that DSLRs and expensive lenses will "just not going to exist tomorrow." We're really skeptical about all this, but, hey, anything can happen in the future, right?
We've no idea if the L16 will be a successful product. But we do know that, if things somehow go wrong, Light wouldn't be the first, and neither the last young company to promise big things and fall short of delivering them. In any case, Light has serious plans. Earlier this year, it has partnered with Foxconn (famous for manufacturing Apple devices, among many other things) to bring a multi-camera system - similar to that seen on the L16 - to smartphones. Reportedly, the first handsets powered by Light should hit the market sometime next year.
Until we hear more about Light and its L16, you can check out some photo samples (provided by Light) in the second slideshow below. Unfortunately, the images aren't high-res, so we can't properly judge them. Anyway, let us know if you think that Light can really take on DSLRs with its technology.
sources:
Light
,
Re/code