Spy vs. Spy coming to iOS this summer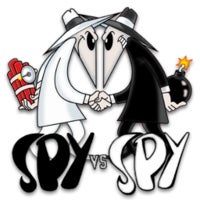 Spy vs. Spy, the Mad Magazine comic strip turned hit video game, will be seeing a release on a new platform this summer – iOS devices. WB Games has been dropping cryptic hints around the web regarding the release. The latest of which includes a message that when deciphered reads:
This iteration of Spy vs. Spy will be based on the original game that was released in 1984, but will add HD graphics and online multiplayer. As a fun twist, you will have the option to select modern-day or old school graphics and sounds. The campaign mode will be host to the original 8 embassies as well as 16 new ones. Finally, the game will also support leaderboards and achievements via Apple's Game Center.