Sproutling is a new wearable for new parents
6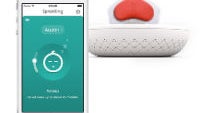 We all know that there are a ton of wearables on the way, and usually when we think of wearables, we think about smartwatches, fitness bands, Google Glass, and sleep monitors. We also usually assume that these wearables will be worn by the person getting the use out of it, but that is changing with a new wearable for newborns called Sproutling.
The idea of Sproutling is to either supplement or replace a traditional baby monitor. A baby monitor is usually audio or video to let you keep track of your baby as it sleeps, but Sproutling wants to get smart about it. The device comes in two parts - the wearable band for the baby, and the "charging bowl" which not only charges the device, but sends the data to the parents' smartphone. The app will even be able to track multiple children, as long as each has their own Sproutling band. The wearable will obviously be able to track more personal data than simply if the baby is asleep or not.
It will track the baby's heart rate and movements, and try to interpret and predict a number of things. The plan is to be able to interpret your baby's mood, predict when it is going to wake up, and send alerts which could prevent Sudden Infant Death Syndrome (SIDS). SIDS is said to happen when a baby sleeps on its stomach, so Sproutling will send an alert when the baby is in that position, so it can be moved.
Interestingly, the Sproutling was made by a startup founded by former Apple and Google engineers. The device is available for pre-order right now for $249, although the pre-order supply seems to be disappearing quickly. General sales are expected to start next year.