Sprint's Claure, T-Mobile's Legere among the most hated CEOs in America says survey
7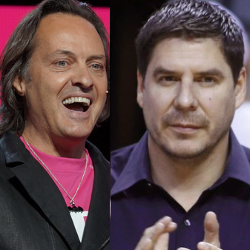 A company called Owler runs a crowdsourced platform that businesses can use to gather intelligence. Owler has come up with a ranking of the most hated CEOs in America, and surprisingly two of the most visible mobile executives were numbers three and four on the list. Before we get into their names, let's just tell you about the top two names on the survey.
Number one with a score of 21.5 (lower score is worse) was United Airlines CEO Oscar Munoz. This is no doubt the result of the incident last month when a Doctor was dragged off a UAL plane and injured in the process. The victim refused to give up his seat for a UAL employee who was going to bump him off the flight.
Number two was Marissa Mayer,
who will be leaving Yahoo once its acquisition by Verizon closes
. Mayer is blamed for not being able to turn around one of the Internet's first big corporate winners. Yahoo fell on bad times and whatever lead it had in search was far surpassed by Google. Mayer's score of 32.8 tied her with the third most hated CEO in the states, Sprint CEO Marcelo Claure. This might have been the result of consumers voting against the company. Claure, who also is the co-founder of handset distributor Brightstar, does have a following on social media which is where the public would interact with him. Sprint is the fourth largest carrier in the states and some consumers are not happy with its network.
The fourth most hated CEO in the states is a major surprise because he has a legion of fans who follow his every move on social media. The only things that this executive could be accused of is over exposure and perhaps a brashness that offends some of the public. But he does get results. We're talking about T-Mobile CEO John Legere, who had a score of 41.9. Legere is not your typical CEO which should have helped him avoid this fate. With his long hair, T-Mobile magenta t-shirt and his constant use of messaging apps, the executive actually done a great job curing customer pain points. And while he does insult the competition and uses language that is often NSFW, under his leadership T-Mobile has become the most innovative of the four major U.S. carriers.
Ironically, if recent rumors are true,
T-Mobile and Sprint are discussing a merger of the two firms
.Which of the two most hated CEOs would run the combined company? Masayoshi Son, the CEO of Sprint parent SoftBank, has said that T-Mobile's Legere would end up running a merged T-Mobile-Sprint.
source:
Forbes
via
BGR