Sprint Unlimited 55+ for Seniors could be announced on May 18th
8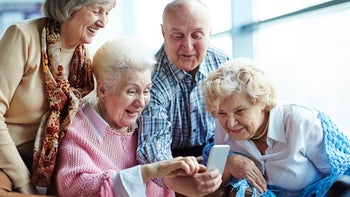 Last August,
T-Mobile announced an unlimited plan for seniors 55 and older
. A report published today says that Sprint will introduce its own unlimited plan for seniors on May 18th. Sprint is expected to call its plan Unlimited 55+. If that sounds familiar, well, it happens to be the same name as T-Mobile's plan for seniors. If you're 55 or older, Sprint will give you one line of unlimited service for $50 a month, or two lines for $70 a month. Currently, Sprint charges $60 a month for one line of unlimited service and $100 a month for two lines.
Besides the special pricing, the rest of the plan remains the same as Sprint's regular unlimited offerings. That means subscribers get unlimited talk, text and data, with video streaming at (DVD quality) 480p, music streaming at 500 kbps, and gaming streaming to 5 Mbps. With Sprint's Global Roaming service, subscribers get to text and use data in 185 countries at 2G speeds without having to pay extra. International roaming is capped at 100MB at 2G speeds, and during periods of heavy traffic, Sprint could reduce the data speeds of heavy users.
With the report today that
T-Mobile and Sprint might finally announce a merger next week
, Sprint could decide not to announce this. On the other hand, considering the regulatory approvals that such a transaction would require, a deal between the two carriers could take up to a year to close. With that in mind, the nation's fourth largest carrier might decide to go ahead and offer its version of Unlimited 55+ next month.
source:
AndroidPolice