Sprint to pay $125 for referrals
This article contains unofficial information.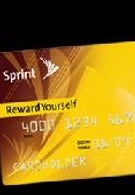 Business is so cutthroat among cellular carriers, that we hear that Sprint now offers a plan that will pay $125 for each referral. Now before you get excited and start wearing a sandwich board at the mall, there are conditions and rules that apply. First, it is a limited offer valid until
3/31/09
. If you refer a friend to Sprint before the end of the month, you and your friend will each receive a Sprint Referral Reward Visa debit card. Once your friend's account has been active for 30 days, you will receive a $100 card while your friend will get one with $25. To actual refer your friend, you head over to the Sprint web site and send him an e-mail from
this link.
Plead, beg or bribe your friend to buy and activate a Sprint or Nextel phone either at the store or online, before 3/31/09. From his spanking new Sprint or Nextel device, your friend calls #REF (#733) within 15 days or 3/31/09, whichever comes first. Make sure that your friend knows your Sprint number, because they will ask him for it so you can get credit for your friend's account. If you are thinking about trying to get that entire capacity crowd at Yankee Stadium to sign with Sprint, forget it. You are limited to 12 referrals over the course of a year and you cannot refer yourself. The debit cards take 6 to 8 weeks to arrive and no rewards are given for for those subscribed only to Nextel Direct Connect or Sprint data cards. Better start calling all of your friends, time is a wastin'. After the end of the month, the standard referral program goes back, giving you $25 instead of $100.
source:
Sprint
, thanks Anonymous Tipster!