Sprint to avoid webOS devices for the time being?
21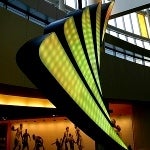 When it launched back in 2009, the
Palm Pre
was burdened with the uneasy task of bringing webOS to the masses and it made its debut on no other carrier than Sprint. Unfortunately, things have not unfolded as the nation's third largest carrier planned and webOS devices are now strangely staying away from Sprint's shelves.
According to the rumor that was just brought to our attention,
Sprint is not planning on offering any webOS devices for the rest of 2011
with the main reasons for that being the poor adoption of the platform and the devices that run it. It was hinted that the
HP TouchPad
might make it to the carrier's lineup eventually, yet chances of that ever happening were slim. That being said, those of you who have been waiting to upgrade their trusty webOS handset and replace it with an
HP Pre3
, for example, might really have to look for it on the shelves of a different carrier,
as earlier speculations have suggested
.
However, if the rumor is to be believed, Sprint may not be breaking up with the platform entirely as that mostly depends on what HP chooses to do with it. Nevertheless, until the next batch of webOS smartphones hits the market, the majority of the loyal webOS fans might have already converted to a different operating system or switched to a different carrier. Wouldn't it be too late for Sprint to embrace webOS again?
via:
PreCentral Forums