Sprint planning to bring the HTC EVO View 4G to $199 the week after Christmas?
6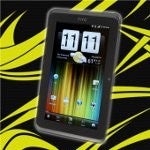 This is the season for inexpensive tablets, literally! Everywhere we turn, we're seeing some killer pricing attached to some quality tablets out there. Just to think, we used to be content with $500 tablets, seeing it was regarded to be the neutral price point for the product category, but of course, it has gone down considerably.
Already this past week alone, we've seen the
HTC EVO View 4G
for Sprint reduced in price to the
under $250 price point
, which is fantastic seeing that's the outright cost you'll need to pay to pick it up – and yeah, no need to sigh a contract with it. Well, if that's not enough for you, then you'll be interested to know that it might possibly be offered at an
even lower price
after Christmas!
Yes, you heard that right, we stress that it's possible – seeing that one of our trusty tipsters managed to pass along some information about it. Specifically, it looks as though Sprint will be selling the tablet for
$199 the week after Christmas
, which is a stellar pricing for a full-featured Android powered tablet. However, the leaked memo doesn't explicitly say if that's the outright or on-contract price – though, we'd wager it's going to be the former.
Therefore, if you can somehow wait past Christmas, you can very well pick up the tablet for very cheap. Maybe you can treat yourself to it?
Thanks to our anonymous tipster!