Sprint: our first 5G phone by LG will have 'shiny' and 'distinct' design
7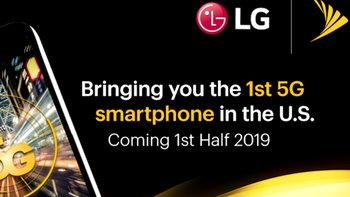 Back in August,
Sprint and LG announced
that they are partnering on a phone with 5G connectivity that will be released in the next two quarters. At the time, the press release waxed poetic about the benefits that 5G brings, like faster speeds, lower latency, but said that "
device specifications and exact timing will be announced later
."
Thanks to Mishka Dehghan, the Vice President of 5G development at Sprint Business, the mysterious LG phone is starting to get more fleshed-out. Previously, we only knew that the device will be a "
beautifully-designed advanced 5G smartphone
," but now it turns out that it could very well come in a unique form factor.
Apart from repeating that it's going to be a "
distinct
" and "
beautiful, shiny object
," the VP chimed in the following:
What's really remarkable about the LG device that you'll see is it's going to be immediately recognizable, everybody around you will know it's a 5G device.
This certainly piques our interest towards the form factor, as, apart from writing 5G with big yellow letters on the back of the Sprint phone, we don't really see how could the LG handset scream next-gen connectivity.