Sprint order forms show BlackBerry 9650 and 8230, Motorola ES400 and more
This article contains unofficial information.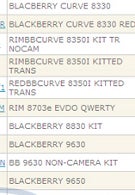 An order form for Sprint locations gives away some information about upcoming handsets soon to be available for the pin-dropping network. Of course, you might be focusing on the EVO 4G, but we do suspect that Sprint will offer other models besides the drool producing handset du jour. According to the form, Sprint will soon be selling the BlackBerry Bold 9650. That Sprint should offer the 9650 should come as no surprise for anyone, considering that the carrier does sell the BlackBerry Tour 9630 , the predecessor of the new model. The latter phone adds Wi-Fi and an optical trackpad to the Tour. For those who work in jobs where picture taking would be frowned upon, a version of the 9650 without a camera will be available. As we earlier
reported
, a leaked copy of the User Guide called the device the Bold 9650 instead of the Tour2. Another 'Berry apparently on the way to Sprint is the Pearl Flip 8230, written as the Apex on the order form.
The Motorola ES400 also appears on the paperwork, as a Windows Mobile device. The guys based in Schaumburg have been focused on Android (and have been quite successful at that), so this could end up being an Android flavored device. As an alternative scenario, consider that because Motorola isn't really producing any more Windows Mobile 6.5 models, the ES400 could be a Windows Phone 7 powered device for late this year.
Another device listed is the Palm C40. While the model showed up last August in Sprint's inventory system as we
reported
, nothing came of it and not much of anything is known about this phone. It might be reasonable to wonder if Palm even has the funds to go ahead and do everything needed to make a new model a decent seller. When you consider that Verizon can't seem to even give away the Pre and Pixi Plus, and AT&T's pricing on their models will be affected by what Big Red does (why pay more for the same phone on a 3G network that many feel is not up to Big Red's pipelines?), the C40 could end up stillborn. But none of this matters anyway, right? After all, you probably have you eyes on the prize, which for now is the EVO 4G.
RIM BlackBerry Pearl 8230 Apex Specifications
|
Review
RIM BlackBerry Tour2 Preliminary Specifications
source:
BGR