Sprint offers $50 unlimited plan until January 30th
11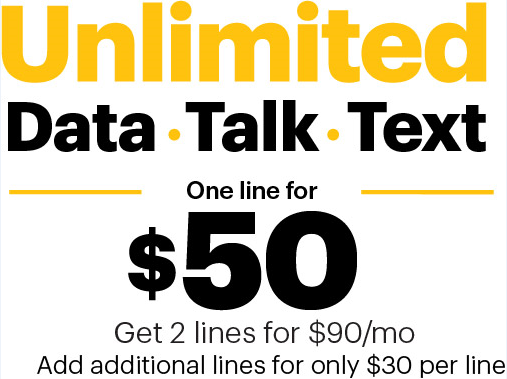 Following T-Mobile's announcement at CES concerning its
T-Mobile One
plan, Sprint is looking to poach some new customers. In a world where
Verizon believes
that customers don't
need
unlimited plans and most customers are grandfathered into older unlimited plans, deals like this are rare. Until January 30th, Sprint is offering unlimited talk, text, and data for only $50. A second line will run you $90 total for both, whereas each additional line is another $30 a month.
Of course, as with most of these offers, there are some caveats — you just have to read the fine print. After March 31, 2018, you'll pay $60 a month, instead of $50. Sprint says that the data will be "mobile optimized," meaning video streams will run at up to 480p+ resolution, music will stream at up to 500kbps, and gaming will be capped at 2Mbps. The biggest caveat, however, is that it's only for new customers. If you're an existing Sprint customer, you're simply out of luck.
If you don't mind the caveats listed above, get decent Sprint service where you live, and are looking for a new carrier anyways, this seems like a fairly good deal. Head on over to
Sprint's site
to check it out for yourself.
Seriously. Is Verizon living in an alternative reality? Am I scratching my head after seeing Verizon's new ads claiming consumers don't need – or want – unlimited wireless plans? And they say their new 5GB plan is the plan we've all "been waiting for."
All of us at Sprint couldn't disagree more, so starting today, we are doubling down on Unlimited. For four days only, new customers to Sprint get Unlimited Data, Talk and Text for just $50 per month*. Add a second line and pay just $90 per month for both. Add additional lines for just $30 per line. Enjoy unlimited mobile optimized streaming videos, gaming and music and unlimited 4G LTE data for most everything else while on the Sprint Network. That's worry-free wireless for at least $5 less than Verizon's new 5GB for $55 plan.
We don't underestimate the value of unlimited data and neither should you – or Verizon. I find it pretty ballsy for Verizon to tell me what I need or don't need. We prefer to listen to our customers (not tell them what they need) and, overwhelmingly, Sprint customers are choosing our powerful unlimited rate plans to live their lives without limits.

THE VALUE OF UNLIMITED
5GB isn't really much data. I can eat up 5GB of data watching just seven episodes of any of my Netflix favorite, House of Cards. With HD viewing, Netflix uses as much as 3GB per hour! 5GB would give me just about two hours a day per month to stream my favorite songs on TIDAL. That isn't much, especially when I am traveling. And YouTube? That could cost me close to 1.5GB in an hour. I would use up my 5GB allotment in just under three and a half hours.

You need at least 5GB of data if you rely on your phone for both entertainment and work, including mobile internet access for several hours daily. Here are a few estimates of how much data you use with your smartphone on the mobile internet:

1 hour of web browsing (50 pages): 50Mb
Checking your email daily: 150Mb per month
Daily instant messaging (WhatsApp, Facebook messenger, etc): 250Mb per day
Music streaming: 100Mb per hour
Watching a video (streaming): 1Gb per hour
Are your eyes glazing over trying to calculate how much data you use every month? Do you have ANY idea how much data you – or your teenagers – use each month? Do you want to know? Or would you rather live worry-free using your wireless device to its potential?

ENJOYING LIFE WITHOUT LIMITS
At Sprint, we don't TELL our customers how much data they need. We give them a choice: rate plans that provide data buckets or the simplicity of unlimited – both at great values. Most current Sprint customers are taking advantage of unlimited data plans. They enjoy talking, texting, tweeting, streaming, snapping, gaming… whatever they want!

Welcome to 2017, Verizon. No one wants to watch a data meter and change their habits to meet your plan restrictions. Mobile video data traffic is doubling every 18 months, indicating its importance to wireless consumers. Wireless customers are using their smartphones more than ever, especially as we let go of traditional landline phones. Almost half of all U.S. households rely fully on mobile phones and have cancelled their landlines. Wireless-only households exceeded 48 percent at the end of the year, up from 8 percent just 10 years ago.

There has NEVER been a better time to switch to Sprint. Once you enjoy the freedom of Unlimited, you won't want to go back to purchasing data in restrictive buckets. Unlimited means no more worrying about running out of data or surprise overage charges. All on a network that is within 1% reliability of Verizon and AT&T and is better than T-Mobile. **