Price as advertised: T-Mobile ONE plans now include all monthly taxes, fees and surcharges
18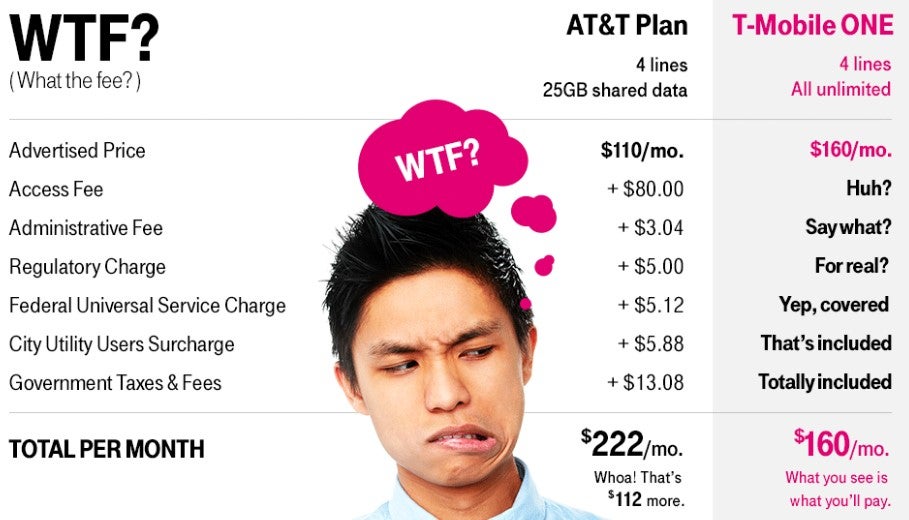 Wow, so T-Mobile is really doing this, after
hinting at the CES show
that it will be doing away with the various taxes, fees and surcharges in their monthly bills, but incorporate them in the price of the plan that is advertised instead. The carrier just sent us a press release saying that "
T-Mobile ONE now includes all monthly taxes, surcharges and fees
." Thus, when you see $40 per person for a family of four with auto pay, that is exactly what you will be charged at the end of the month.
In its usual style, T-Mobile's PR team explains that in a customer survey it did, many of the respondents described getting unexpected taxes and surcharges rolled in their monthly bill often feels like being "
punched in the face
" or "
kicked in the stomach
." Hear, hear. But, yes, the press release also gives an example with Verizon's $110 family plan that actually costs $210.70 on average with all the fees tucked in neatly, and that's not far from the truth, so kudos to the Un-carrier, and hopefully others will follow suit.
Moreover, T-Mobile's unlimited ONE plan will now be enrolled in the Un-contract and KickBack services, where there are no unilateral price jackups, and the customer can get up to $10 back per line when they use 2GB or less for the month. The taxes and fees inclusion will start as early as your February bill, too, pretty neat.
T-MOBILE ONE NOW INCLUDES MONTHLY TAXES & FEES
Company Release - 1/23/2017 9:00 AM ET
The Un-carrier delivers solution for the nearly 9 out of 10 wireless customers who think ALL wireless plans should include taxes and fees

BELLEVUE, Wash.--(BUSINESS WIRE)-- It's here! Announced at CES 2017, T-Mobile (NASDAQ: TMUS) has flipped the switch and gone all in with T-Mobile ONE. That's right, T-Mobile ONE now includes all monthly taxes, surcharges and fees. So, when a family of four signs up to pay $40 each with autopay for the unlimited T-Mobile ONE, they actually pay just that for unlimited wireless service—$40 per person and not a penny more.

Research firm CivicScience recently surveyed more than 800 U.S. wireless customers on behalf of T-Mobile, and the results don't look good for the carriers.

A whopping 86 percent of respondents: "It is wrong for the price on your monthly wireless bill to be more than the advertised price," and said, "wireless carriers should include taxes and fees in the prices they advertise."
6 in 10 people (59 percent) said they believe the carriers make up fees just to make more money!
All those taxes and fees have carrier customers feeling fed up!

72 percent of respondents equated getting hit with taxes and fees on their wireless bill to getting "punched in the face" or "kicked in the stomach."
A full 68 percent admitted to wanting to "yell or kick things" when their carrier bill unexpectedly changes.
And 23 percent said they get "angry," "furious" or even "incensed and outraged" when their bill unexpectedly changes.
Today, U.S. wireless customers have a choice—keep getting those confusing, fee-filled bills (like Verizon's $110 plan that actually costs $210.70 on average for a family of four) or switch over to radical simplicity with T-Mobile ONE, now all unlimited and all in with monthly taxes and fees included. With T-Mobile ONE, the price advertised is the price you pay every month. No surprises.

On top of that, T-Mobile ONE is now covered by the Un-carrier's Un-contract, so the customer—and only the customer—has the power to increase the price they pay for T-Mobile ONE. Plus, with the new T-Mobile KickBack, customers can get up to $10 back per line every month they use 2GB or less. Now, T-Mobile ONE is perfect for everyone—whether you need a little or a lot.

To get T-Mobile ONE with taxes and fees included and opt-in to KickBack please visit https://www.t-mobile.com/

Video typically streams at 480p; tethering at max 3G speeds unless you add ONE Plus Int'l. On all T-Mobile plans, during congestion the top 3% of data users (>28 GB/mo.) may notice reduced speeds until next bill cycle due to data prioritization. $40/line for 4 lines when using Autopay; see web or store for additional pricing. Limited time offers; subject to change. Sales tax and regulatory fees included in monthly service price. Indiana, Ohio, and Kentucky: see in-store materials for specifics in your state. Kickback: Must make on-time payments; must be active/in good standing when credit applied. Max $10 credit: promo lines priced <$10 will receive <$10 credit; free lines ineligible. May not be combinable with all bill credit device offers. See T-Mobile.com to learn more about Un-contract.