Sprint not rushing into 5G
18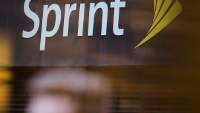 With Verizon, T-Mobile and AT&T already talking about 5G wireless service, at least one U.,S. carrier isn't jumping on board the 5G train without looking both ways. Jay Bluhm, Sprint's VP of network planning, says that the nation's fourth largest carrier is evaluating 5G. "We're looking at it," the executive says. He adds that there is still plenty of capacity in Sprint's current network configuration to cover the needs of users.
Sprint says that it has enough capacity at the moment despite carrying an increase in traffic of 85% year over year. By 2020, Sprint will be carrying three times the amount of data that it currently is routing through its pipelines. Half of that traffic is video, according to Bluhm. To meet demand, Sprint is using some LTE-Advanced optimization techniques like carrier aggregation and beamforming. With the former, multiple spectrum channels are put together to increase the capacity of the pipeline. With the latter, signals from multiple antennas are directed toward the location where Sprint customers are.
Verizon has been testing 5G in Euless, Texas,
along with Samsung, at 28GHz. T-Mobile plans on testing 5G at 28GHz and 38GHz, and
AT&T is working on the technology along with Intel and Ericsson
.
Interestingly, Sprint is also alone among the four major U.S. carriers
when it comes to sitting out this year's FCC auction of 600MHz spectrum
. The low-frequency airwaves travel farther and penetrate buildings better. Sprint says that it already has enough spectrum at the moment. Is it possible that by waving off 5G and failing to take part in the auction, Sprint is digging itself a hole from which it will eventually find it difficult to emerge?
source:
FierceWireless