Sprint finds nothing wrong with selling LTE phones without LTE network
48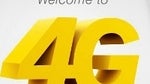 Since Sprint has not yet flipped the switch of its LTE network, one might think that selling LTE capable smartphones now does not seem logical. The carrier, however, does not share that standpoint. In a recent interview, Fared Adib, who is vice president of product development at Sprint, told
AllThingsD
that doing so actually makes sense. After all, customers commit to 2-year contracts upon purchasing those smartphones, and over that period of time, the customer's demand to have the latest technology at their disposal, will be met, he stated. Furthermore, Adib added that the rollout of Sprint's LTE network will be speedier when compared to the deployment of the carrier's WiMAX, 3G, and 2G networks.
LTE network aside, what was also discussed in the interview was Sprint's hesitation about launching new Windows Phone devices. Adib's comment was that Sprint is still intending to add Windows Phone offerings to its portfolio, but most likely after the launch of Windows Phone 8. Until then, however, Windows Phone devices for Sprint are not likely to be announced. Nevertheless, Adib noted that he is pleased with what Nokia is doing in order to once again establish itself on the U.S. smartphone market with its Lumia lineup.
Windows Phone 8 should be officially unveiled by the end of 2012, and the changes that it will bring to Microsoft's platform are expected to be groundbreaking. As far as Sprint's LTE network is concerned, it is likely to go live this summer in select markets.
Recommended Stories