Sprint beats estimates with narrower loss, sells 1.5 million iPhones in Q1
12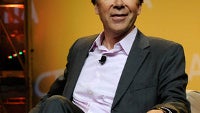 Sprint, the third largest carrier in the United States, has been going through an impressive transition under chief executive Dan Hesse and is slowly starting to see the benefits as its stock price surges up and it manages to beat estimates. Not everything is rosy, though, and it's still an uphill battle ahead. While loss in the first quarter for Sprint was lower than expected, the carrier continued losing customers with 560 000 leaving in a single trimester.
Sprint grew sales to $8.79 billion and loss was 21 cents per share, less than the analysts' consensus for 34 cent loss. Overall net loss stood at $643 million, narrower than the $863 million Sprint lost in the first quarter of 2012.
Smartphones constituted 86% or the large majority of Sprint phone sales and the carrier sold 1.5 million iPhones.
"This is a transformative year for Sprint and we've gotten off to a good start,"
Sprint CEO Dan Hesse said in a statement.
Sprint shares have more than tripled in value over the last year and the company has received takeover bids from both SoftBank and Dish.
source:
Sprint