Sprint and T-Mobile aim to merge without giving up any assets
12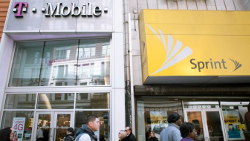 With
Sprint majority owner SoftBank reportedly making the decision to move forward on a merger with T-Mobile
, Reuters learned from confidential sources that both carriers plan on completing the transaction without selling any assets. That is important as far as the deal goes because part of the attraction for T-Mobile is combining its low-frequency spectrum in the 600MHz-700MHz band, with Sprint's huge inventory of high-frequency 2.5GHz spectrum. This combination could help the newly merged company when time comes to build out their 5G pipeline.
Today's report also claims that both T-Mobile and Sprint are working together to come up with a negotiating strategy in case U.S. regulatory agencies like the DOJ request the divestiture of assets. If the deal does go through, the new company would have approximately 131 million subscribers. At the end of the second quarter, AT&T had 136.5 million customers with Verizon's 147.2 million subscribers putting Big Red on top.
Speaking of regulators, the main two that T-Mobile and Sprint need to sign off on any deal are the FCC and the DOJ (FTC).
The pair forced AT&T to back out of a bid for T-Mobile
in 2011, and were prepared to do the same when a T-Mobile/Sprint combination was being discussed in 2014. This time around, the FCC and FTC are both said to be skeptical of the deal, but neither agency can make an official comment until the transaction is announced and reviewed. One analyst, John Hodulik of UBS, sees the FCC forcing a T-Mobile/Sprint to sell some of its combined 300MHz in spectrum holdings. That amount tops the amount of spectrum owned by Verizon and AT&T.
It is better for Sprint and T-Mobile to listen and learn the concerns of regulators first, and see whether there is anything that can be done to address those concerns."-Craig Moffett, research analyst, MoffettNathanson
T-Mobile CEO John Legere is expected to run a merged T-Mobile/Sprint. The current buzz around the water cooler suggests that Sprint stockholders, including 80% owner SoftBank, will not receive a premium for their shares. As a result, SoftBank and the other Sprint stockholders will own 40% of a combined company. Deutsche Telekom (which owns 64% of T-Mobile) and other public T-Mobile stockholders will own the remaining 60% of the new carrier.
source:
Reuters