Sprint advises those interested in the Kyocera Echo to pre-order early
22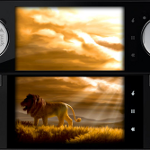 Sprint has put up a web page for those who want to pre-order the dual-screen Kyocera Echo. The handset will launch on April 17th for the price of $199.99 after a $100 instant rebate. The buyer needs to activate a new line, or be eligible for a handset upgrade. The device must be signed up for the Everything Plan with Data, a Premium Data add-on and a signed 2-year contract.
Although the phone's introduction brought only a half-hearted cheer from the Sprint faithful, the carrier is hoping that the dual-screen captures the attention of those in the market for a new smartphone. And on the same page is a contest that gives you the opportunity to duel for a dual-screen phone. The winner gets a free Kyocera Echo.
The web site also gives you a view of the four different modes available on the Echo's dual screen including Tablet Mode, Optimized Mode, Simul-Task Mode and the Single-Screen Mode that adds up to a 4.7 inch display, the largest screen available on any current Sprint handset.
The Kyocera Echo is powered by Android 2.2 and has a 5MP camera on the back and under the hood is a 1GHz Snapdragon processor. Unfortunately, the Echo will not have 4G connectivity. But what it
does have
is a dual-screen that makes it a unique device for those who like to be different.
source:
Sprint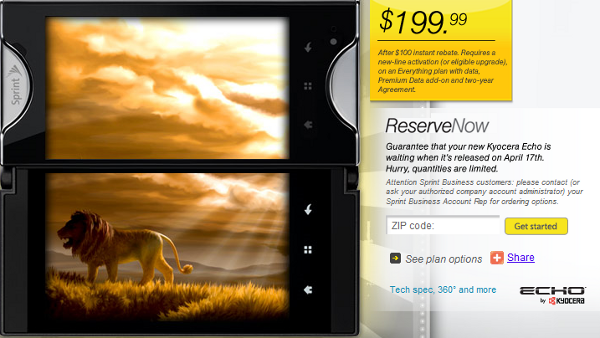 Pre-order the Kyocera Echo from Sprint now and you will be guaranteed to receive the handset on April 17th