Sprint ad tells smartphone users to just say no to hiring a data coach
21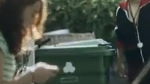 Sprint's latest television ad promoting its unlimited data plan deals once again with a family that has been torn apart trying to divy up its monthly allotment of data. To prevent the family from going over its cap which would lead to
overages or slower data speeds
as the family gets throttled, they decide to hire a data coach.
The data coach shuts down all non Wi-Fi use of data by grabbing the phone away and yelling "Nay!" whenever he see data being used. The coach appears to be from an Eastern European bloc country, so he appears to be pretty intimidating. Of course, the answer to getting past all of this according to the ad, is to sign up for
Sprint's unlimited plan
.
Still, Sprint might be on to something here, a whole new job to guard families' monthly data cap. Armed with a taser, the coach would have the authority to zap 50,000 volts into those not complying with the rules to save data. This has the makings of a decent reality show, wouldn't you agree?
source: Sprint (
1
), (
2
)