Would you like to see the Sprint-T-Mobile merger blocked?
20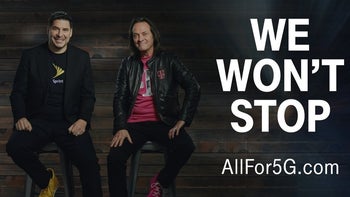 The triple jeopardy
over the T-Mobile-Sprint merger
is threatening the deal's very existence. On top of the potential for job losses, price hikes, and thinning the competitive landscape that caused a political and union outcry, have come national security concerns.
T-Mobile's parent company and using Huawei equipment is in the spotlight, but it seems that the Department of Justice is more focused on the pricing cartel and employment effects, meeting with T-Mobile and Sprint officials last week to discuss the pros and cons of the proposed merger.
T-Mobile argued that the new entity will be lowering prices and won't charge extra for 5G, in order to poach customers from the big two - Verizon and AT&T.
That's good news for consumers but after the initial amassing of new customers is completed a year or two down the road, nothing could prevent a price creep and/or cost cutting measures for achieving economies of scale, i.e. layoffs.
Leaving Sprint to hobble along is not an ideal solution, either, so the merger could be approved, after all, but in a different form and with different guarantees than the deal is proposing now. That is why we wanted to ask you if you are for or against the deal, and whether you would like the current DoJ push for blocking it to materialize.