Sprint CEO Dan Hesse defends push for the iPhone
50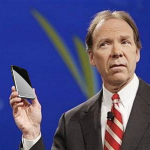 It has been widely reported that Sprint agreed to pay Apple $15 billion over the course of 4 years just to have the privilege of selling the iPhone on the network. Yesterday, it was speculated that the push for the iPhone combined with the increasing debacle that is Sprint's effort to build an LTE network could
spell real trouble
for the company.
CEO Dan Hesse has already been on close watch since the Apple deal and then the
failed MetroPCS deal
, but he is defending the choice to go after the iPhone. Hesse said that iPhone sales have "exceeded expectations" and said that iPhone users are actually better for the network because they "have a lower level of churn and they actually use less data on average than a high-end 4G Android device." This means that iPhone users are actually more profitable than the average smartphone user.
Hesse said that the real aim is to draw in new customers, because Apple asks for such high subsidies that new subscribers become far more important. Hesse goes on to use Sprint's unlimited data as a selling point, claiming it is a big reason why "4 out of 10" iPhone sales for the carrier are new subscribers, meaning it is stealing customers from the competition.
But, given the widespread assumption that the next iPhone will have the same LTE-capable radio as the new iPad, and the fact that Sprint doesn't have a workable LTE network, we don't know if that trend can continue.