Spotify Shows leaves beta and ready to take on YouTube
6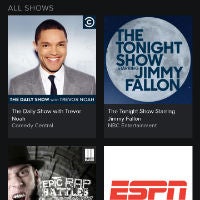 Spotify has been working on a new video streaming service that it intends to have compete, at least to a limited degree, with services like YouTube and Snapchat Stories. The feature has been in beta for a while, but Spotify has decided it is finally ready for primetime and will be rolling it out beginning this week.
The plans for Spotify's video servce, which runs under the Now section of the app as "Shows", was originally announced back in May. Spotify made some big name partners including ABC, NBC, Comedy Central, ESPN, the BBC, Conde Nast, Fusion, Maker Studio, TED, and Vice News. The plan was to offer the newest and most relevant TV and news clips, similar to what you might find on the YouTube channels for shows like The Tonight Show with Jimmy Fallon. The service will also package clips together in bundles like "News of the Week" or "Laughs at Lunch."
Spotify Shows is a mobile-only feature right now, and is even coming to Android first, which is not a common practice. Shows are rolling out now to Android users, and will be hitting the iOS version of Spotify by the end of the week for users in the U.S. There is no word on when it might be coming to Windows.