Spigen invented a wired solution to not losing the wireless Apple AirPods
21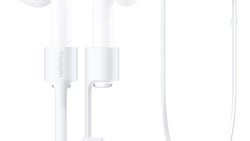 Apple's brand new AirPods have their virtues in that they are competitively priced, convenient, pack an impressive amount of technology, and deliver joyful tunes wirelessly. The gloomy side is that wearing them makes you look like as if you've stuffed your ears with broken electric toothbrush heads, and that losing them eventually is very much a given.
With its simplistic new invention, Spigen has managed to solve both these problems. Seizing the opportunity, the popular accessories maker released the $10 AirPods Strap, which attaches to the pair of earbuds and neatly falls onto the wearer's neck. This way, if the AirPods were to slip away, they would simply dangle from the wire. It's an efficient design, familiar to that of regular Bluetooth headsets. There's also a convenient wire holder attachment that prevents the strap from tangling up.
Of course, carrying the AirPods Strap will make those wireless earbuds a smidgen more wired than they used to be. But it won't make them any less practical, and in the end, that's what really counts. The AirPods Strap can be purchased from the source link below.
source:
Spigen (Amazon)