Spend wisely – 5 fine expense tracker apps for Android and iOS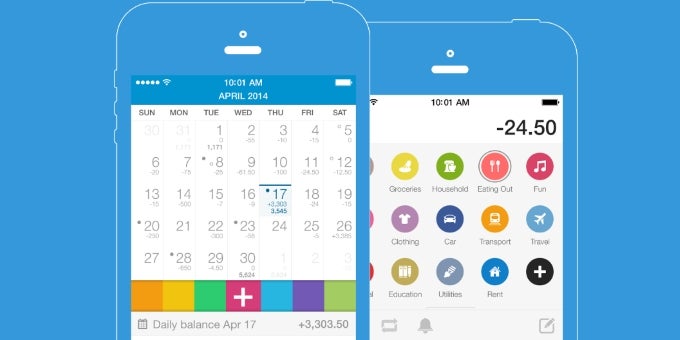 We have to admit that we can all be just a little better at managing our budgets. Most of the time, money just comes one way and goes the other, losing many opportunities to save up or just hold onto the available cash for longer.
An app that outlines your expenses, savings, and predicts your budget in advance can be a considerable advantage. Luckily, expense trackers are abundant on smartphones and it's hard to find anything outright unusable. Heck, it's pretty hard to find an app that's merely average, anyway!
With this into account, we've lined up five mighty fine expense trackers for Android and iOS. Grab any of them with confidence and use it to the fullest. Hopefully, they will help put your finances in bright new order!
BillGuard
BillGuard is about tracking your spending in a secure and efficient way. The app offers a powerful spending meter, a Smart Box for organizing all your charges, alerts for when a hacker may be having access to your cards or sneaky charges are identified. In fact, BillGuard has found over $60 million in card fraud and grey charges, with users flagging over $1 million in fraudulent charges.
Dollarbird
Dollarbird makes track expenses and forecasting savings as easy as adding events to your calendar. The app helps with planning and projecting how much money you'll have in the future and gives out reminders for monthly bills. It boasts a simple, calendar-based interface that lets one easily add transactions and adhere to a budget. By adding future income or expenses to it, balance gets calculated automatically for each day, month, or year. Setting up recurring transactions, such as salary or rent, is also an option that helps with easily planning cash flow.
Invalid image meta
Goodbudget
Goodbudget is a personal finance manager and proactive budget planner based on the envelope budgeting paradigm. The app supports Check Envelope and Account balances, as well as savings for the future with Goal and Annual envelopers. Expense transactions can be split, and funds are easily transferred between Envelopes and Accounts. There's also a location-based widget that lets one enter common transactions in just three touches. The free version offers up to 10 simultaneous accounts and envelopes, while subscribers get to enjoy an unlimited amount of those, and up to 5 years of transaction history.
Level Money

At version 3.0, Level Money is one of the better-developed and longer-standing mobile expense tracking apps. It acts as a personal spending guide, letting you know what you can spend your disposable income on once essential expenses have been taken care of. But Spendable can be adjusted at any time to accommodate your spending fluctuations, so you don't have to be too strict – unless this is what you want.




Level also allows you to track and group your spending habits with example transactions and compare your month-over-month spending and history. Transactions from your bank accounts and credit cards can be browsed in a single feed, letting you see big ticket purchases and irregular deviations in your bills or income. You will also receive predictions for your combined balances and spending, and rest assured that your financial data is secured with 128-bit SSL and AES encryption.







Spendee

Spendee is a quick and easy app for tracking expenses and optimizing your budget. The beauty of it is analyzing your income and expenses via visually pleasing infographics generated by the app. Spendee also supports joint accounts shared with family members, friends, or partners. It can operate with multiple currencies as well, which makes it especially convenient for travelling or vacation. You can also dedicate custom wallets to special occasions like celebratory events. But mostly, Spendee is about its wholesome charts which illustrate where money is going and how your spending matches your income.






ALSO READ