5 of the best money management and financial planning apps for Android and iOS
3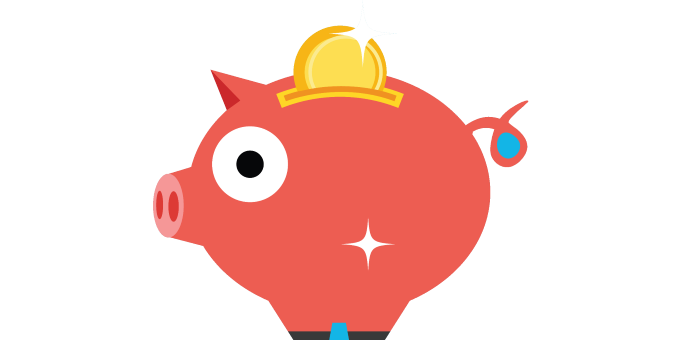 Managing personal finances can be the bane of our monetarily-facilitated existence. At a glance, the whole thing seems easy enough – get monthly income, subtract rent and bills, put some cash aside for rainy days, and spend the rest on your heart's desires. But more often than not, the reality is that two weeks from payday, you're left wondering where the heck did all that money go as you leave the supermarket with nothing but schriracha and a box of noodles bought with what you scraped off the bottom of your cash reserves barrel.
What can one do to stop landing themselves in a financial mess? First, you need discipline, and then get a good financial planning app because keeping track of budgets and expenses all by yourself is daunting as it can be. The five applications we'll be checking out here tie themselves directly to your bank accounts, trace your spending habits, and lay down the truth about your financial well-being in the shape of pretty graphs.
Some also let you define monetary goals, make flexible adjustments to their monitoring, and peruse personalized tips for spending wisely and saving money. They are great tools to have at your disposal if you're ready to start financial planning seriously. Oh, and most of them are free!
Level Money
A free and secure app that does almost everything you expect of it.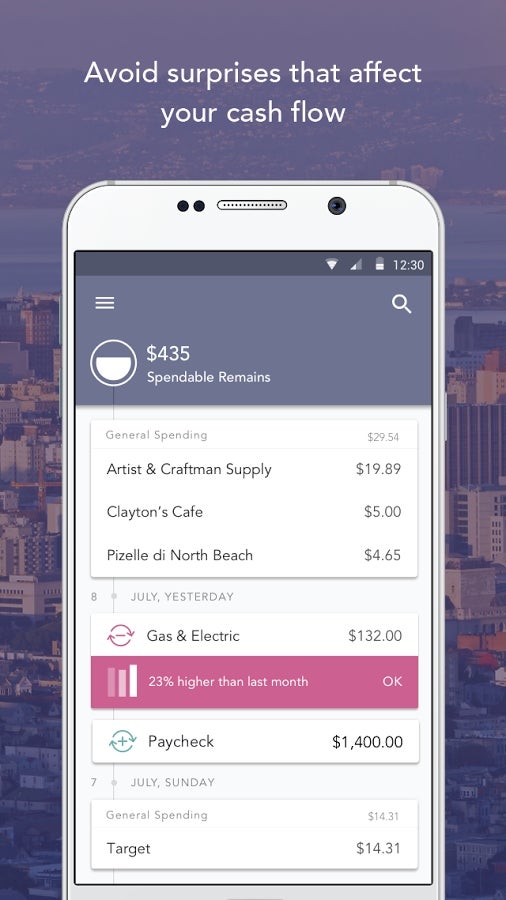 Level in action
Level is a simple, but powerful tool for analyzing your financial status. Once you let it account for your essential expenditures (bills, rent, etc), you can comfortably allocate your disposable income and take advantage of a daily spending guide to keep everything in check. Of course, life sometimes demands fluctuations in one's spending, but Spendable can be adjust to account for that at any time. The app can automatically group your spending habits and provide example transactions so you get to learn your spending habits better. Another useful trick is tracking and comparing your monthly spending history.
Since keeping track of money flow plays a crucial part in financial planning, Level comes equipped with utilities that let you pick and trace transactions from all your bank accounts and credit cards from a single information feed. This way, you can catch irregularities in your spending or income, compare recent activities against your typical spending, and edit transactions' names, amounts, or other variables.
Level also uses this data to come up with predictions for your combined balance and spending over the month, laying out your bill and income patterns on a calendar. All data is sourced from your actual bank account, with Level having access to more than 18,000 financial institutions in the U.S. To maintain a good level of security, the app is limited to read-only access of your financial data, incorporates 128-Bit SSL and AES encryption, and features verified security by Intuit and McAfee.
Spendee
Manage money with colorful infographics and an interface that's easy to get around.
Spendee can take the guesswork out of your financial management and help optimize your budget. It also features pretty infographics to outline your income and expenses, and these are integrated within a straight-forward interface. You are able to share joint accounts with family, friends, and partners. Financial tracking also works with multiple currencies, which makes the app suitable for use during travelling and vacations. There's also the option to allocate finances into "custom wallets" and cover special occasions like anniversaries and weddings.
PocketGuard
An app made with the most secure money management in mind.
PocketGuard provides an easy and secure solution for managing your money. It monitors cash flow, bank balance, and daily spending by securely connecting to your bank accounts (covering over 18,000 institutions in America). Once set up, PocketGuard automatically captures your bills, subscriptions and recurring income. The app prioritizes security by using 128-bit SSL encryption, establishing a read-only connection to your bank to prevent financial operations, and guarding your data with a personal 4-digit PIN code.
In addition to comparing monthly spending reports and catching money wasters, Pocket Guard has the "I'm going shopping" feature designed to prevent overspending. There are also 'bank balance' and 'cash flow' graphs that illustrate your long-term financial outlook and spending tendencies. The app comes with convenient reminders as well, alerting you for credit card payment due dates, billing subscriptions, fees, charges, and paychecks.
HomeBudget
A pricy app, but one that might be well worth it for its rich set of features.
HomeBudget's price tag might put some people off, but those who spent on it do seem happy with their purchase. It's one of the most accomplished multi-platform financial planning apps one can enjoy. Its essential features include an expense tracker designed to monitor expenses, income, bills, and account balances. Budgeting support is available, as well as tools for analysis, such as charts and graphs.
Family Sync is also a convenient, thoroughly developed option to let a group of household devices (running Android or iOS) exchange expense and income information, or work together within a single budget. Other stand-out features include attaching photo images of receipts to expenses, Calendar and List views of bills, classifying expenses into fixed, variable and discretionary (to automatically compute your disposable income), trend charts and data export, a home screen widget, password protection of data, and many others.
Mint
One of the finest and most popular expense managers available for free.
Mint is a free app made to help you spend smarter and save more. It gives you the advantage of having all your accounts, cards and investments stored in one place so that you can track your spending, make budgets, check credit card scores, get bill reminders, and consult personalized tips to reduce fees and save cash. Mint is also able to automatically categorize bank and credit card transactions, as well as to generate charts and graphs to show you where all the money goes. There's also the Trends feature that helps one track their credit cards, cash, spending, income, and net worth over time.
You can also store and view all your personal finances offline. Users can also define financial goals, such as saving up for trips or paying off debts, and receive expert advice on budgeting and distributing paychecks across bank accounts. Privacy-wise, your data is protected with 128-bit encryption and a personal 4-digit code. In the event your mobile device gets lost or stolen, all your account information can be deleted remotely.