Specs for Microsoft Surface RT 2 and Surface Pro 2 rumored
30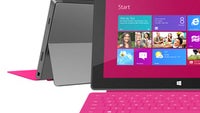 Although the
Microsoft Surface RT
is still a newcomer to the tablet scene, while the
Pro Surface model is yet to be released
, their maker is said to be working on their successors already, if a recent rumor is to be believed. Now, before you ignore this post in disbelief, allow us to point out that the source of the said rumor is the (usually) well-informed
MS_Nerd.
He tweets that the Microsoft Surface RT 2 (or whatever it ends up being called) will be smaller – with a 8.6-inch display of unknown resolution. Interesting choice, we have to add, because that would place the device right in between the two well-established tablet categories, namely that of the affordable 7-inchers and the pricier 10-or-so-inch slates. Is Microsoft aiming to give us the best of both worlds with the RT 2? While the current model is powered by a Tegra 3 chipset, the second-gen RT tablet will sport a Qualcomm SoC, according to MS_Nerd.
The second Microsoft Surface Pro model will supposedly use a different chip as well. It is said that the Intel Core i5 silicon will be ditched in favor of an
"upcoming and yet-to-be-released AMD 'Temash' APU"
. AMD's Temash lineup is scheduled to launch in 2013 and will feature at least two 28nm CPUs along with a graphics unit on a single chip. The screen on the second-gen Surface Pro tablet will be a bit bigger at 11.6-inches.
But wait, that's not all! The tipster claims that a third Surface device is on the way. The Surface Book, as it will allegedly be called, will have a 14.6-inch screen and a 22nm "Haswell" chip by Intel. According to leaked roadmaps, these chips will be released during the second quarter of 2013.
Of course, you should keep in mind that all you just read is a load of rumors. Still, we'll let you know in case anything else regarding the future of Surface tablets leaks on the web.