Special Apple Watch Edition for celebrities comes with solid gold band
42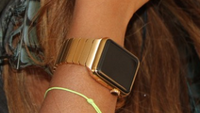 An Apple Watch Edition model with a solid gold band has been seen adorning the wrist of celebrities like Beyonce and fashionista Karl Lagerfeld. This appears to be a band that only celebrities and other influential people are able to score from Apple. The tech titan considers its smartwatch to be just as much a fashionable piece of jewelry as it is a piece of technology for your wrist.
If Apple does end up offering this gold band to consumers, it will extend the price range of the Apple Watch Edition, which currently ranges from $10,000 to $17,000. The high end model is the Rose Gold version of the timepiece which comes with a red leather band and a gold buckle. But apparently that is too pedestrian a combination for the elite of the elite.
The Apple Watch officially launches this coming Friday and as we get closer to the April 24th launch date, Apple continues to make sure that the wearable is
seen on the wrists of celebrities like Drake, Pharrell and Katy Perry
. Last Friday,
Apple design chief Jony Ive was spotted at an event held in a high-class restaurant in Milan
where the merely rich and famous (a tier below celebrity status) received free Apple goodies including an Apple Watch Band offered in exclusive colors. Of course, the band without the watch is useless and some in attendance were given a free Apple Watch.
source:
9to5Mac
via
GSMArena
Recommended Stories