Sources say Dropbox paid $100 million for Mailbox
5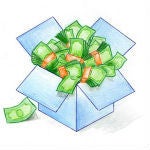 A bit earlier today, we heard that
Dropbox had acquired the iOS Gmail app Mailbox
and the team behind that app. When the deal was first announced, there was no word on how much Dropbox might have paid, but a new report says that Dropbox could have paid as much as $100 million to acquire the product and the talent.
Inside sources are a bit split on the actual total cost to Dropbox. One source told GigaOM that Dropbox paid about $50 million to purchase Orchestra, the company behind Mailbox. But, another source for GigaOM, as well as a source for TechCrunch both quoted the sale price at closer to $100 million in cash and stock.
Also, according to GigaOM, both Yahoo and Facebook had also been interested in purchasing the company, which could have caused a bit of a bidding war, and driven up the price.