Dropbox purchases email app Mailbox
2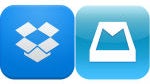 Just over a month ago, a new email app called Mailbox hit iOS. The goal of the app was a pretty ambitious one: to make a better Gmail app than Google. Surprisingly, many people thought that goal was met, and the Mailbox has been in high demand ever since (because it is rolling out through a reservation system). Well, now Dropbox has announced it has purchased Mailbox.
The plan is for Dropbox to keep Mailbox running as an independent app, and eventually have Dropbox and Mailbox add to each other, and to enhance Dropbox features, like email attachments. This is a talent and product acquisition for Dropbox, and the 13 employees of Mailbox will be joining the Dropbox team. The financials of the deal were not disclosed, but the
Wall Street Journal
does note that Mailbox gathered $5.3 million in venture capital funding in 2011.
Many are hoping that by giving the Mailbox crew access to Dropbox's resources, maybe the app's rollout could move faster, and maybe expand to an Android version of the app. But, there have been no specifics given on that.
Recommended Stories