SoundHound's new voice assistant beats Google Now and Siri at their own game
42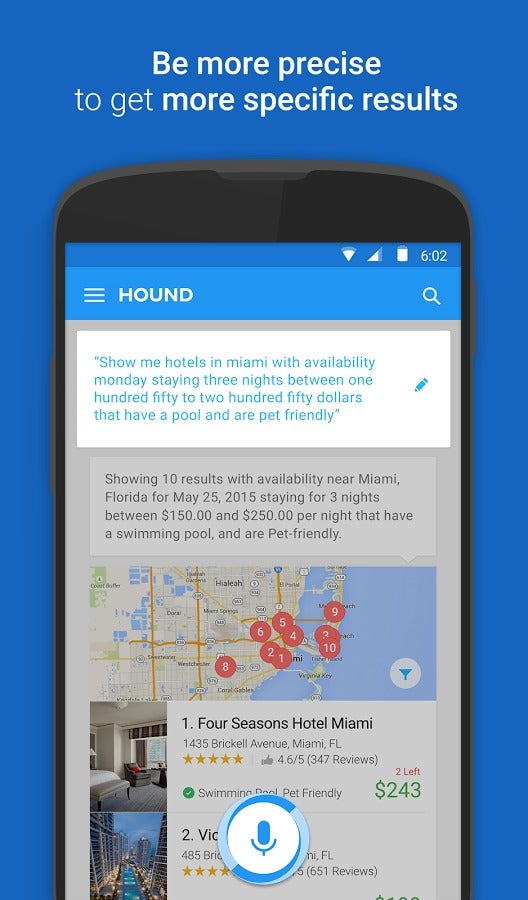 Ten years in the making, а new voice-activated digital butler has emerged, and, surprisingly, it can really take the big three - Google Now, Siri and Cortana - to task. It is created by
SoundHound
, the folks behind one of the most famous song recognition apps, and is named simply Hound.
Unlike Siri or the other integrated options, Hound doesn't split the audio speech recognition from the language processing part, which makes it incredibly fast in processing and replying to your spoken query. If you don't believe us, just watch the video demo below. That is not all there is to it, though - unlike the highly structured, overly robotic nature of questions you can ask Siri or Google Now, Hound deals with much more complex queries, resembling natural language. You can ask it, for example, to show you hotels in the city you are traveling to, then dish out requests like "but only single rooms with sea view," and add "for less than $200 a night," now that you thought of your budget.
Granted, Hound is not perfect, and sometimes doesn't get all the twists and turns of your requests, but it still is leaps and bounds ahead of the stock voice assistants, and is amazingly quick, too. SoundHound CEO mentioned they are not worried about the competition much, as the company's years in audio processing expertise built around song recognition will keep it abreast any startup that dares to challenge Hound's abilities.
For now, the app landed in the Play Store in the form of a beta, which requires an activation code to be sent to you after you install it, but it usually takes about 24 hours for the code to arrive, so if you are intrigued by what you hear in the videos below, take Hound for a spin from the source link provided - iPhone users should sleep tight, too, as an iOS version is also on the way.
| | |
| --- | --- |
| Developer: SoundHound | Download: Android |
| Category: Lifestyle | Price: Free |