Sony introduces new wireless earbuds fit for your workouts and with strong bass
8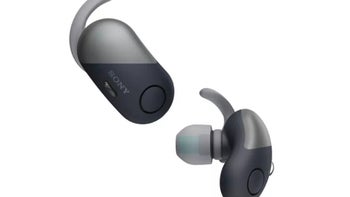 Sony has just introduced a pair of new, Bluetooth-based wireless earbuds that combine light weight, digital noise cancellation and sweat resistance that makes them suitable for workouts.
The new earbuds go by the
brilliant
WF-SP700N (for the cord-free model) and WI-SP600N (for the neckbuds) names, and Sony claims they are the first one to combine BOTH noise cancellation features and water resistance.

First, the WF-SP700N, the "true" wireless kind: battery life on them is 3 hours, considerably less than the 5 hours you get out of the popular AirPods and Samsung's Gear IconX. Sony claims strong bass output and a "one-touch open" case that can provide 9 additional hours of charge. Water protection is rated at IP4X, meant to give enough protection for those sweaty workouts, but not more. The earbuds' price is set at $180 and they will ship this spring.
Next up, Sony introduced the WI-SP600N neckbuds that looks somewhat similar to the Google Pixel buds. The pair features identical noise cancellation and IP4X sweat-resistance capability. Battery life here is better because of the form factor: you get up to 6 hours of continuous playback. The price for these earbuds is set at $150.
source: Sony.com
Recommended Stories