Sony shows intriguing tablet concepts, flaunts its design chops
10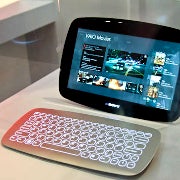 Sony's gadget looks have always been the company's strong side, whichever market it enters, and its Android tablets make no exception. Both the
Sony Tablet S
and
Tablet P
sport sleek, innovative design, which sets them apart from the ocean of black plastic rectangles that are the slates with Google's mobile OS.
At its CES event, the company showed the next design concepts that have come out of its research teams, and even had prototypes to flaunt. One, called Slate, is an oval silvery thing with a sleek keyboard, while the Hybrid is a tablet slider that reveals physical keys.
The Slate concept has a soft-touch flexible thingy that can extend from its back and surve as a desktop mount when needed, while the Hybrid concept has a stylus compartment, and a gigantic speaker grill behind the screen when docked into the keyboard.
Have a look at Sony's new tablet design concepts and tell us what you think about the company's ideas. The interface seems custom, so it is unclear what the prototypes were running, although Windows 8 seems like a good bet, considering the Windows key on the keyboard of the Hybrid concept.
via
Pocket-lint