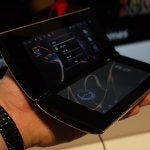 When Sony unveiled their two tablets last year, the Tablet S and the Tablet P, many were curious as to where the latter of the two fell in today's growing tablet market. With its unique dual-screen form-factor and ability to close up like a book for portability, Sony was taking a big risk by stepping away from the slate style tablets that are popping up in every direction.
In our short hands-on time with the
Sony Tablet P
, we can say that it is definitely unique. When the tablet is closed, it is nice and rounded which makes it much easier to carry with you. It has a nice finish to the outside of it and overall the
build quality seems solid
. When opened however, the Tablet P is slightly awkward to hold given its two rounded backs. That is a small complaint though as it isn't too heavy. Due to the form-factor of the device it isn't the skinniest tablet in the world, but anytime there is some sort of innovation there is going to be some trade-offs.
When the Sony Tablet P is opened fully you are greeted with
two 5.5-inch displays
. Each display packs a resolution of
1024x480
and is decent enough, but colors and text could most certainly be better. Of course because there are two screens there is a bit of a gap separating them. This didn't really bother us too much and we found scrolling between the two screens easier than the Kyocera Echo smartphone that launched on Sprint last year.
One thing that we really like about the dual-displays is that you can tilt the top half to better face you. This is good when typing an e-mail or a web address especially since the keyboard displays on the bottom screen. It reminds us of those old school two-way messengers but comparisons end there.
Fueling the Sony Tablet P is a
dual-core 1GHz Tegra 2 processor
. We didn't notice any hesitation when scrolling between screens but there was an instance or two when there was a slight delay when trying to open an application. We will just chalk that up to a pre-production glitch, as for the most part the Tablet P hummed along.
Overall, the unique attributes of the Sony Tablet P will probably win the hearts of a bunch of people eager to break away from the current crop of slabs that are seemingly everywhere. Of course it isn't going to be for everybody, but that is never the case.
Mums still the word on when it will be arriving on AT&T
or what price we can expect it to have, so keep an eye out for any further info we may learn regarding the Sony Tablet S.