Sony replacing Timescape with Socialife starting with Xperia Z
18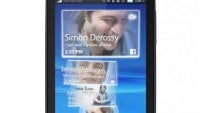 Sony's Xperia smartphones come with a fairly light skin on top of Android, and one part of it - the
Timescape
social network integration tool - has remained constant in the last three years or so after its debut in the
Xperia X10
. Now, that signature feature of Sony smartphones might disappear or rather transform into the brand new Socialife app coming with the newly introduced
Sony Xperia Z
.
The tool looks somewhat similar but differently formatted. Instead of seeing an image of a particular post as the background to its text, in Socialife the image is positioned on the right while the text is on the left.
Socialife
first appeared on Sony tablets and is making the jump from bigger screens to smartphones. The new app is divided into three sections. First, you have the My Stream home panel aggregating content from your Facebook and Twitter accounts, then Discovery mode for finding out new news sources and finally Favorites where you keep your bookmarks.
How do you like the new Socialife app, and would you miss Timescape?
source:
Xperia Blog