Sony announces press event in Germany, is a 6.5-inch smartphone coming?
34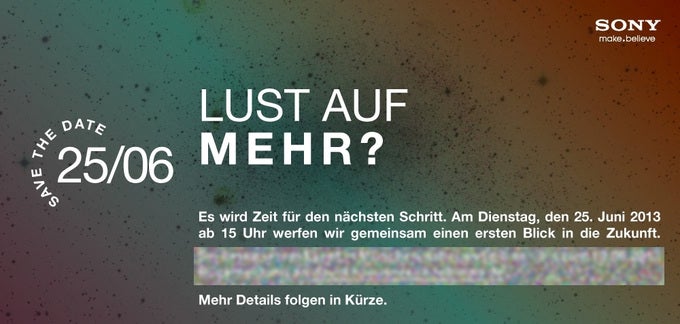 Now that's interesting! Sony has a big announcement to make on June 25 and we think we know what it may be all about. What you see here is an invitation to a press event about to take place in Berlin, Germany. The image itself reveals little as to what's going to be unveiled, but a clue leads us to believe we might finally see the
long-rumored Togari phablet
.
"Lust auf mehr?"
– that's what the invitation says, which can be interpreted as "Want more?" in English. Does "more" mean we'll see a Sony smartphone with a humongous screen? Probably, if our intuition is to be trusted. Rumor has it that an Android smartphone by Sony is in the works, equipped with a 6.44-inch, 1080 by 1920 pixel touchscreen. Further specs for the device supposedly include a Snapdragon 600 or 800 SoC, 2 GB of RAM, a 13 MP Exmor RS camera, and a stylus of some kind, which means that Sony might be readying a
Samung Galaxy Note III
competitor.
Whatever the case is, we'll know what Sony has in stock in just a few weeks. The June 25 Sony press event starts at 3:00PM German time (9:00AM Eastern U.S. time) and rest assured that we'll be covering it.