Sony Xperia ion shoots full length music video of Canadian band Metric
6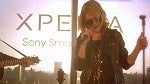 When Sony Mobile US held its launch event for the
Xperian ion
earlier this summer, those that attended were treated to a live performance from a couple members of the Canadian indie rock band Metric, who are known for hits like "Gold Guns Girls" and "Help I'm Alive."
The launch party was held shortly before the Xperia ion was released on AT&T. Prior to Metric taking the stage, Sony handed out 30 Xperia ions to people in attendance at the event to shoot HD video with the device of the band's performance. Sony took all that crowd-shot footage and created a music video of Metric performing the title track to their most recent album called
Synthetica
, which is available on Google Play.
There is a bit of editing and a lot of screen effects, but the video quality is pretty good. It makes a great video story for the device and for the people that got to participate. Do any Xperia ion owners out there have any great video stories to tell?
Check out the "making of" video directly below, with the finished production video further down.
sources:
Sony Mobile US YouTube channel
and
Metric
via
Xperia blog
Finished video...