Sony Xperia ZL hands-on
24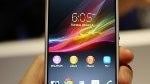 First time glancing over their specs sheets, most people would probably be confused as to why in the world would a company produce two similarly spec'd smartphones. Well, as we begin to look deeper into
Sony Xperia ZL
, which is a very close sibling to
Sony's flagship in the Xperia Z
, its design is the most obvious difference between the two. Beyond that, it's carrying along a pretty impressive spec sheet that no doubt makes most smartphones currently out right now shiver in their tracks.
Frankly, it might be rather difficult for some people to notice the
slightly more compact size
of the Xperia ZL while holding it in the hand. However, instead of sporting the glossy finish of its sibling, the Xperia ZL opts for a cleaner appearance with its
all-white matte paint job
, which of course, maintains the more cleanly looking appearance between the two – then again, it misses out on the dustproof and waterproof characteristics of the Xperia Z. Some of the other notable differences with this include a dedicated shutter key for quick photo snaps, a small plastic cover in the rear that provides access to a microSD card slot, and a front-facing camera that's positioned in an unfamiliar spot in the lower right corner of the screen.
Aside from those standout items, the Sony Xperia ZL is very similar to the Xperia Z. Therefore, it features the same 5-inch 1080p display with Mobile BRAVIA 2 engine, quad-core processor, LTE, 13-megapixel rear camera, 1080p video recording, and Android 4.1 Jelly Bean with Sony's custom UI. So what does it all mean for the Sony Xperia ZL, which as we know is a similar spec'd smartphone to the flagship Xperia Z? Well, it's tough to say, but we're a bit interested in knowing if this will be sporting a lower or same price point as its sibling. Granted that it doesn't boast the rugged aspects of the Xperia Z, its small frame could possibly land a lesser price point when it's released – then again, it's anyone's guess at this point, much like its exact release date as well.
And with that last question lingering on in our minds, there is without question a sense of urgency with this one to come to market ASAP. As we've seen often in the past, long release dates after being unveiled has proven fatal for many devices – so let's cross our fingers and hope that it gets released in a relatively quick manner before it becomes obscured by other newer smartphones in the pipelines. Heck, it's not even certain if any of the US carriers will be nabbing this one.