Sony Xperia Z5 Premium vs Apple iPhone 6 Plus: first look
55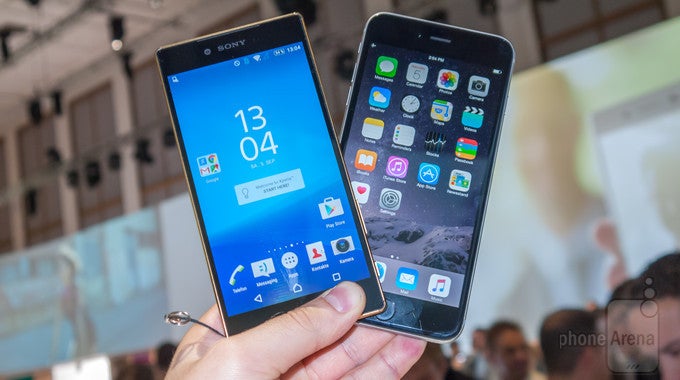 Sony really surprised us with its decision to employ its top-of-the-line Xperia Z5 Premium with a 4K display, making it the world's first device to come with such a record-breakingly sharp screen. All things considered, the beastly Xperia is also one of the better-spec'd handsets on the Android scene at the moment. With a high-end chipset, such a sharp display, and a whole host of other notable features, the Z5 Premium looks like the phone Sony needed to get back near the edge of the industry. But how does the new Z5 Premium stack up against Apple's largest handset currently on the market, the iPhone 6 Plus, which is most certainly about to be succeeded by the iPhone 6s Plus? Let's delve in and find out!
Design
In the other camp, we are greeted by the iPhone 6 sleek and straightforward design philosophy, which became one of the role models for the world of smartphones. It comes with an aluminum body that features slightly more rounded edges, which make it a bit more comfortable to hold in hand despite that it's a bit wider and taller. With dimensions of 6.22 x 3.06 x 0.28 inches (158.1 x 77.8 x 7.1 mm), it is ever so larger yet thinner than Sony's new flagship which stands at 6.08 x 2.99 x 0.31 inches (154.4 x 76 x 7.8 mm); the iPhone is also slightly lighter at 172gr, while the Xperia Z5 Premium tips the scales at 180gr.
Despite the size differences, both phones are equipped with 5.5-inch displays. This leads to a slight, yet noticeable difference in the screen-to-body size ratios of the two - the Z5 Premium is in the lead with 71.10% of its front side being screen, while the 6 Plus is a bit behind with 67.91%. It's worth mentioning that both phones come with fingerprint scanners - the iPhone has its embedded in the circular home screen, while Sony put the fingerprint scanner of the Z5 Premium at the side, on the elliptical power button.
Display
Just as we mentioned, the Xperia Z5 Premium employs a 5.5-inch IPS LCD display with the ludicrous resolution of 2160 by 3840 pixels. This translates to a pixel density of 806ppi, making this by far the most pixel-dense display you can find on a phone. Discerning individual pixels with the naked eye is essentially impossible. Just as most of Sony's devices, the display of the Xperia Z5 boasts the TRILUMINOS tech on board, as well as the X-Reality for Mobile one, too. The display seems rather color accurate and has good viewing angles, but we will have to test it before we can say whether Sony has nailed it in the screen section this time around.
The iPhone 6 Plus is nowhere near close to closing in on the Z5 Premium in terms of display pixels. Its 5.5-inch IPS LCD display is a 1080p one, which means that it has a pixel density of 401ppi - twice as low as the Xperia Z5 Premium. Well, it will probably be hard to make out any serious differences between the two in your real-life scenarios, but the fact remains that the Z5 Premium has the sharper display. Still, we shouldn't forget that the iPhone has one of the better LCD displays in terms of contrast, gamma, brightness, color temperature, and accuracy.
Interface and functionality
In the Apple's camp, the iPhone 6 Plus boasts iOS 8.4. While it can't hold a candle to Android's limitless functionalities, iOS is traditionally more intuitive and user-friendly. The platform is a prerequisite for getting close and intimate with Apple's rich ecosystem.
As we mentioned, both have fingerprint readers on board: Apple's iPhone 6 Plus allows you to make use of Apple Pay, while the Xperia Z5 Premium will probably allow you to use Android Pay if the latter arrives with a firmware update.
Processor and memory
The Sony Xperia Z5 Premium is powered by Qualcomm's most powerful chipset at the moment, the controversial Snapdragon 810 which is surrounded by controversy due to its overheating and throttling issues. It's a 20nm, 64-bit octa-core chipset racing at 1.9GHz, comprising four Cortex-A57 and another four Cortex-A53 cores under the big.LITTLE configuration. Meanwhile, an Adreno 430 GPU will take care of the graphic-intensive tasks.
The iPhone 6 Plus comes with a dual-core 1.4GHz Apple A8 SoC that usually beats most of its Android rivals in single-core benchmarks and tests. Moreover, its PowerVR GX6450 GPU is one of the better-performing ones around. This hardware setup is perfectly sufficient for the software needs of the iPhone 6 - thanks to the optimization of iOS, Apple's flagship feels snappier and more powerful than most of its Android rivals. The Xperia Z5 Premium has 3GB of RAM, as well as up to 32GB of on-board storage that are expandable via a microSD card. The iPhone 6 Plus comes with 1GB of RAM and is available in either 16, 64, or 128GB versions.
Camera
The Apple iPhone 6 Plus, despite not as impressive on paper as the Xperia Z5 Premium, is usually a tough nut to crack in the camera race. The Apple iPhone 6 has an F2.2 8MP rear camera, with its sensor being 1/3" in size and boasting 1.5 μm pixels. It's also the single Apple device to date to feature OIS (optical image stabilization). With such a setup it's able to give most of its rivals a run for their money photography-wise.
There's a 5MP wide-angle selfie camera at the front of the large Xperia. It makes use of Sony's Exmor R sensor and comes with a software stabilization feature that will come in handy should you decide to shoot videos with it. The iPhone 6 Plus comes with a 1.2MP front-facing camera.
Conclusion
A phone with a 4K display? While the benefits of such a sharp display are still arguable, there's no denying that it's the future that's happening right now and the Xperia Z5 Premium is its harbinger. The rest of the phone is equally impressive, with sleek and premium design, powerful hardware, and a well-rounded selection of features that make it an appealing offering.
The Apple iPhone 6 Plus is also a well-endowed and potent smartphone that might seem a bit "underpowered" on paper, but should never be underestimated. With a noteworthy camera, display, UI, and ecosystem, it is easily one of the best phones you can get.
While it;s impossible to pinpoint a clear winner, we are more than sure that the battle between the world's first 4K phone and the largest iPhone ever will be a rather heated one.