Sony Xperia Z2 vs HTC One (M8): preliminary comparison
99+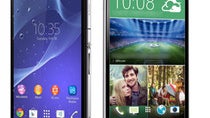 At this year's MWC in Barcelona, Sony introduced us to its greatest smartphone yet – the Xperia Z2. As strikingly similar to the Xperia Z1 as it may seem, the new model brings along a number of noteworthy (and welcome) improvements, including a better screen, an even faster processor, a higher RAM capacity, and a greater set of camera features. But the phone looks great not only on paper. We had the chance to take it for a spin at the show, and to tell you the truth, we were quite pleased. And with so much to offer, the Sony Xperia Z2 surely ranks among the most highly anticipated phones in existence.
A phone that fits into the very same category is the new HTC One (M8). Like the
Sony Xperia Z2
, it is sleek, powerful, and packed to the brim with goodies of all kinds. From the external design, through the goodies under the hood, to all the fancy software features, the HTC One (M8) seems like a phone that can easily give the Xperia Z2 a run for its money.
Design
Last year's
Xperia Z1
was a gorgeous smartphone, and the same can be said about the upcoming Sony Xperia Z2. Just like its predecessor, the latest Sony flagship is built to impress with its solid feel and premium design. Flat glass plates grace the phone's front and back, while a smooth aluminum frame embraces its sides, with flaps protecting its ports. Plus, the Sony Xperia Z2 is waterproof, which is a trait that only a few high-end phones can brag with.
Visually, the new HTC One (M8) is expected to be very similar to its critically-acclaimed predecessor, adopting an enhanced version of its outstanding, all-metal construction. This is why we consider both HTC's and Sony's flagships to be in the same league when it comes to design. The new HTC One isn't water-resistant, but unlike the Z2, it features a built-in IR blaster for controlling TVs, stereos, and set-top boxes.
The Sony Xperia Z2 can't be regarded as a compact smartphone, as it is 5.78 inches (146.8 mm) tall and 2.89 inches (73.3 mm) wide. It is also far from the lightest among today's high-ends with a weight of 5.75 ounces (163 grams). Looking at the new HTC One, though, the situation seems pretty similar, as HTC's new offering has dimensions of 5.76 x 2.78 x 0.37 inches, and a weight of 5.64 oz (160 g). So, we can officially say that we're dealing with two 'grand' smartphones, in every sense of the word.
HTC outfitted the 2013 One with a pair of high-quality speakers in the front, which made the phone ideal for music listening and for watching movies. The good news is that these are still present on the new HTC One. Sony, however, has also added front-facing stereo speakers to its flagship. Which phone will produce better sound remains to be seen, or rather... heard.
Display
Sony's last few flagships had one flaw in common – their displays weren't quite as good as the ones used on the high-ends by Sony's competitors. The Xperia Z2, however, is different. In fact, according to its maker, the Z2 sports the best display that has ever graced the front of a Sony smartphone. Indeed, colors on the Xperia Z2's display are vibrant, viewing angles are excellent, and the X-Reality feature aims to improve representation of videos and photos. (
More on Sony's display tech here.
) As for its technical characteristics, the Sony Xperia Z2 has a 5.2-inch IPS LCD display with a resolution of 1080 by 1920 pixels for a pixel density of 424 ppi.
Even though the new HTC One will be about as large as the Xperia Z2, it will use a slightly smaller, 5-inch display. Sure, a size difference of 0.2 inches is not that big of a deal, but it still counts as an advantage for Sony's flagship. Size aside, last year's HTC One had a wonderful S-LCD 3 display with accurate color reproduction and great viewing angles, and the One (M8) is taking things even further. However, which screen will prove to be the better one remains to be seen.