Sony Xperia Z2 Tablet vs Samsung Galaxy Note PRO 12.2: first look
22
Sony has unveiled the
Xperia Z2 Tablet
at MWC 2014, and if there was ever a device deserving the title
'Air'
we would give this out to Sony. The Xperia Z2 Tablet is the lightest and thinnest 10-inch tablet ever made (it's actually 8% lighter and 15% thinner than the iPad Air), but we could not help but wonder how it will compare against a newly emerging category of 12.2" tablets.
For this comparison, we have the Sony Xperia Z2 Tablet against the
Samsung Galaxy Note Pro 12.2
. Let's see whether the S Pen and TouchWiz interface can give Samsung's tablet any tangible advantage.
Design

Measuring a razor thin 0.25" (6.4mm), the Xperia Z2 Tablet is the lightest of all 10" tablets, weighing less than a pound (426g) for the Wi-Fi model. In stark contrast, the Galaxy Note Pro 12.2 that we compare it against is actually 42% heavier than that. The difference is crucial - you can easily hold the Z2 Tablet with just one hand for longer periods of time, while the Note Pro 12.2's weight just forces you to hold it with two hands or rest it against some surface.

Sony's tablet features the well-known OmniBalance design language with sharp corners, monotone colors and signature accents like the circular power key, all combining to creating a well-crafted slate. The Galaxy Note Pro 12.2 is very different in style and feel. It looks like a stretched out Note 3 with that familiar faux-leather back and the S Pen tucked in on its side. Which style is better? We prefer the cleaner, modern looking one on Sony's tablet, but - quite frankly - it's a matter of personal preference.
Display
Sony is using a new LED display technology for the 10-inch 1920 x 1200-
pixel
IPS display on the Xperia Z2 Tablet. The technology is called Live Color LED, and it uses red and green phosphor lights with blue LEDs, while specially made color filters are on top of that. The end result is a display that should produce more evenly distributed light and just have a better image quality. Sony also includes its "X-Reality for Mobile" engine that analyzes the image output in real time for artifacts, colors, sharpness and contrast, and makes sure the digital noise is boiled down to a minimum.
The Note Pro 12.2 comes with a much larger, 12.2-inch display that makes it look as large as some ultrabooks and not all that portable. With a larger screen, though, you can get more things done easier, plus it's a higher-res panel - one featuring a 2560 x 1600 pixels of resolution. In reality, though, the larger size compensates for the difference in resolution and the two look almost equally sharp. Actually, the fact that the Note Pro 12.2 uses a Pentile RGBW matrix makes it look pixelated when displaying areas of just one color, while you don't have that issue on the Z2 tablet.
One hugely important feature of Sony's Xperia Z2 Tablet is the IP58 certification, so you can take it with you to watch movies in the bathtub, and just not worry if you splash it with water.
Interface
Both tablets run the latest Android 4.4 KitKat, but they also feature different custom skins. Sony has its much lighter layer on top of Android, changing little in the traditional icon-based interface of Android, while Samsung has cooked up a brand new user interface that uses large-sized tiles and is a nearly complete overhaul of the stock Android looks.
Samsung offers the more feature-packed skin with neat features that make a lot of sense for tablets and its split-screen multitasking mode is the best example. However, it's also true that many of the features in Samsung's skin look a bit gimmicky, and TouchWiz is generally the much heavier interface. All in all, Sony has simplicity and speed on its side, but it lacks the advanced multitasking features.
A neat addition to the software package for the Xperia Z2 Tablet is the bundle of six free blockbuster movies from Sony Pictures and a month of Music Unlimited trial that come a bonus.
Processor and memory
Being a newer device, Sony's Z2 Tablet runs on the newest 2.3GHz quad-core Snapdragon 801, which is a slight improvement over the Snapgragon 800 in the Galaxy Note Pro 12.2. The difference is indeed small, and you probably won't notice it much in regular apps and just navigating around menus. One area where the extra performance power will come in handy, though, is gaming where we expect the Z2 Tablet to be a bit faster than the Samsung one.
The Xperia Z2 Tablet also comes with 3GB of RAM, and 16GB of internal memory, expandable via a microSD slot. The Note Pro 12.2 features the same amount of RAM, but it has double the internal storage that is also expandable via microSD cards.
Camera
The 8MP Exmor R camera sensor on the back of the tablet sports an LED flash, and all the bells and whistles you'd expect from Sony's camera app, like automatic Scene Recognition mode, or an HDR photo regime. Samsung's tablet also features an 8-megapixel main camera, and both are capable of recording video at 1080p. The two tablets also come with 2-megapixel front-facing cameras for video conferencing.
One neat feature of the Xperia Z2 is the surround sound setup called S-Force with speakers on the sides. The tablet is equipped with four of them in total, ensuring true surround experience. Naturally, the placement of the speakers is such that you won't block them with your hands while holding the tablet.
Sony Xperia Z2 vs Samsung Galaxy Note 3: first look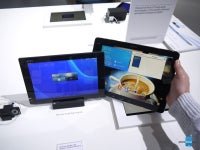 Expectations
The Xperia Z2 Tablet will be arriving some time in March, and there will be a choice of two colors - black and white housing, while the Samsung Galaxy Note Pro 12.2 is already up for sale. With all this revolutionary thinness and lightness, though, we tend to think the Xperia Z2 Tablet is the more lucrative option of these two. What do you think, has Sony done it again with the Z2 Tablet?