Sony Xperia XZ2 Premium is the heaviest high-end phone of recent years
46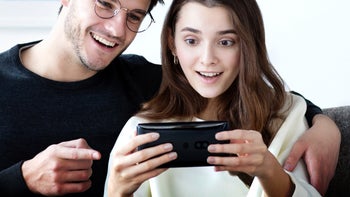 Launching in the US on July 30
, the
Xperia XZ2 Premium
is Sony's most advanced smartphone ever, and, at $999, it's also one of the company's most expensive mobile devices to date. But we discovered that the handset is notable for a somewhat awkward characteristic as well: it is the heaviest high-end smartphone we've seen in recent years.
According to Sony, the US variant of the Xperia XZ2 Premium weighs 8.2 ounces, meaning 232 grams. We've searched hard for other high-end phones that could match the new Xperia in weight, but didn't find any - at least not among the handsets that are relevant in 2018. After the Sony Xperia XZ2 Premium, the second heaviest high-end smartphone on the market is the rugged
Samsung Galaxy S8 Active
, which weighs 208 grams. A close third is the
Apple iPhone 8 Plus
at 202 grams.
Like the regular
Sony Xperia XZ2
(released some months back), the XZ2 Premium is made out of an aluminum frame sandwiched between curved 3D glass. Because of its curved back, at its thickest point, the phone measures 11.9 mm - that's a lot for a modern handset. The 5.8-inch 4K display, the 3540 mAh battery, and the advanced dual rear camera, among other things, all add to the device's weight.
If you're coming from almost any other phone (since most models weigh under 200 grams), you'll definitely notice the extra heft of the Xperia XZ2 Premium in your hands. Of course, if you like the
XZ2 Premium and all the features
that it's offering (and there's plenty to admire in this regard), the unusual weight is probably not a deal breaker. But it's still something to take into consideration if you're seriously thinking of buying the phone.