Sony Xperia Tablet Z joins AOSP
10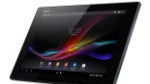 Sony has been a big contributor to the Android Open Source Project, and has been making a push recently to add more of its devices to AOSP, which means that they get stock Android ROMs straight from Sony. The latest to be added to the mix is the Sony Xperia Tablet Z.
The first device Sony brought to AOSP was the
Xperia S
, and just last month it also added the
Xperia Z
. That makes the Xperia Tablet Z the first Sony tablet to be added to the mix, but Sony does want to be clear that this is very early build. You're not going to be able to use this as a daily driver on your Tablet Z, but given how quickly work has gone on the other devices, it may not be too long before we see a usable build.
The Xperia Tablet Z won't be the last device added to AOSP from Sony. Next up, Sony has promised to add the
Xperia ZL
to the list.