Sony Xperia P Hands-on Review
22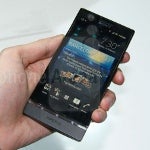 The
Sony Xperia P
, which was once known only by its Nypon code name, was one of the smartphones that we were expecting to see at CES 2012. Of course, that didn't happen. Today, however, we are finally given the opportunity to go up close and personal with this mid- to high-range offering by Sony.
The design is in line with the rest of the new Xperia gang – the P
is made predominantly of plastic
has an aluminum unibody, and features the characteristic transparent line near the capacitive navigation keys. Overall, the Xperia P is one good-looking device, although it won't win an award for exceptional thinness due to its 10.5 mm.
It goes without saying that the 4-inch qHD display on the Sony Xperia P is one of its standout features. Enhanced with WhiteMagic technology, it delivers an impressive brightness of 1000 nits, meaning that it should remain clearly visible even in broad daylight. Since we tested the device indoors, we can't vouch for the brightness of the display, but we'll be sure to check this out once we get a unit for a review.
Providing the Sony Xperia P with processing power is a 1GHz dual-core processor, courtesy of ST-Ericsson. During our brief time with the handset, we didn't encounter much lag while playing with the interface. However, we should mention that these weren't final units we got to play with, plus the handset will be updated to Android 4 ICS (it will launch with Gingerbread). The update is scheduled for this Spring.
Other noteworthy features include an 8-megapixel camera, a VGA frontfacing one, as well as the usual suspects like Wi-Fi, DLNA, and GPS.
The Sony Xperia P should hit the shelves sometime during
Q2 2012
. So, who's getting it?