Sony Xperia 1 Q&A: Your questions answered
12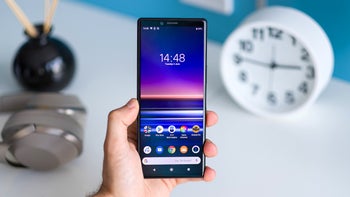 Our Sony Xperia 1 review is out, answering all of the important questions regarding Sony's first flagship phone for 2019. We used and tested the device for more than a week, and our verdict is clear - it's a rather good phone that has just a few shortcomings.
Our review is available right below, so check it out before asking any questions.
Of course, there's always the chance that we might have missed answering a particular niche question that could be of vital interest to you. This is why we are kicking off yet another Q&A session where you'll be asking the question and we'll be giving the answers!
Here come the answers to your questions!
japkoslav: Any news on Compact version?
PA
: Not that we've heard of, but rumor has it the Xperia 2 could have a 6.1-inch display and be slightly smaller than the 6.5-inch Xperia 1. Not on par with the really compact Xperias of old, but what are you going to do.
rubyonrails3: Can we stream Netflix in 4K on Xperia 1? Does Netflix shows UltraHD tag on 4K non HDR content?
PA
: No, you can't. Netflix maxes out at 1080 Full HD on mobile devices and it's a limitation on Netflix's part, not on Sony's. However, you can stream Full HD HDR videos on the Xperia 1.
plsnoregforcomments: Hi there! 1. Is WiFi 6 support going to be added in a future update?2. Does it support WPA3?3. What bloatware does it include, and can it be completely uninstalled (such as the Facebook app)?4. In regards to security patches; does Sony have a good track record, and did you receive any security patch updates during your time with the phone?5. Which phone has your favourite screen, the S10+, OP 7 Pro or the Xperia 1?5. Which phone felt best in your hand, the S10+, OP 7 Pro or the Xepria 1?
PA
: 3. Sony has just a few pre-installed third-party apps, and the majority of these are pretty useful. The apps that you can't uninstall but merely disable are Cinema Pro (app for manual video controls), Game Enhancer, Sony Support, 3D Creator, Facebook, Netflix, and the Fortnite Installer, whereas you can freely uninstall Imaging Edge Mobile, Booking.com, AR Effect, Video & TV SideView (a remote control app), News, PS App, Amazon Shopping, and Movie Creator.
5
) Each screen has its own strengths and merits, but there's one aspect in which we find Xperia 1 superior - it has a flat display and therefore an infinitely better accidental tap protection than the curved screens found on both the
Galaxy S10+
and the OnePlus 7 Pro, which could lead to ghost touches and accidental interaction with the interface.
Does the 120Hz option work just for games?
PA
: There is no 120Hz gaming option and Sony revealed to us it's not planning on including one.
Kampala.bobi: How's the volume from the speakers say compared to the iPhone XS Max both volume and quality 2. How's the slowmo in camera mode? 3. Is the metal railing painted on? Are there any plastics on the phones external 4. Is the camera glass normal glass? Gorilla glass 5 or saphire?
PA
:
1.
As we pointed out in out review, the Xperia 1 offers stereo sound through its loudspeakers. One of the drivers is the earpiece, and the other is a bottom-firing loudspeaker. The sound is loud, with clear highs and well-reproduced vocals, and there's a good balance between the left and the right channel. On the downside, there's no bass to speak of. I know you can't expect much in terms of low frequencies out of a smartphone, but both the
iPhone XS
and
Galaxy S10
deliver more bass out of their loudspeakers.
3.
There don't seem to be any plastics involved in the external build of the Xperia 1.
4.
We are not exactly sure what the camera glass is, but our unit is already slightly scratched - most certainly not sapphire, and unlikely to be Gorilla Glass 5 either.
Sparkxster: 1. Why does Sony have such great battery optimization? 2. How fast is Sony with software updates? 3. Does Xperia 1 have the best vibration motor? 4. Why doesn't Xperia 1 have wireless charging?
PA
:
1
) Sony is just very good at optimizing idle battery usage. Ever since its inception back in 2013, Stamina Mode has essentially done one and the same thing - it limits background processes once your phone enters standby, which leads to excellent battery savings.
2
) Sony is quite fast with software updates, both major ones and monthly security patches, so you shouldn't have any worries in this department.
3
) The Xperia 1 has a very strong vibration motor which gives it off a premium feel. Is it the best though? That's subjective.
4
)
Wireless charging
would have made the phone thicker, which was apparently a big "no-no" for Sony. Blame the lack of wireless charging on aesthetics.
Mike88: As it's the first 4k oled display phone in the world, is the display significantly better than the 2k dynamic oled display in galaxy S10? Also compare it with other oled display phones like iPhone XS.
PA
: Most of the time, you won't be able to tell the difference between a 4K and a QHD+ display. The Sony Xperia 1 is sharp, but so is the Galaxy S10/S10+. This doesn''t mean the Xperia 1 isn't gorgeous to look at - it is, and as we pointed out in our full review, sometimes you might feel like you're looking at a printed picture and not a display.
kibet85: Did Sony confirm a dedicated night mode?
PA
: Sony hasn't utilized a dedicated Night Mode for the camera on the Xperia 1. We asked Sony and the company replied with the following: "For now, we don't have such a plan". So, there you have it - Night Mode is unlikely to grace the Xperia 1.
AlienKiss: 1. Is it possible to hide the annoying buttons from the navigation bar and use only gestures? (without hints) 2. Does the system UI have a dark/night mode?
PA
:
1
. No, you can't hide the navigation bar. Its logic is the same as the Pixel's one - you have a pill home button along with a back button when applicable. Unfortunately, you can't hide these.
2
. There's a dark theme present, but it's similar to the one found on the current Pixels - it will only turn your quick toggles shade dark, with no effect on most stock apps like Messages, Phone, etc. As such, this dark theme can't hold a candle to more venerable iterations of the coveted dark mode, like the ones found on Samsung and Huawei devices, for example.
fam1987: What is the slowest shutter speed and highest iso for the phone camera?2. The phone camera manual mode support raw file? Thank you!
PA
: In Pro mode, you can select 30 seconds as the longest shutter speed and a maximum light sensitivity of ISO3200. However, the stock camera app doesn't support RAW image capture, but you could probably try a third-party camera app of your choice - Lightroom comes to mind immediately, and so do AZ Camera and ProShot.