Sony Tablet S coming to US September 16th for $499
3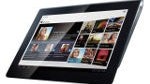 We've told you before that the Sony Tablet S is scheduled for launch on
AT&T in November
, and has started on
pre-orders in Canada
for release on September 23rd, but now we have the info for the general US release. And, even better, Sony has started taking pre-orders for US customers. The Sony Tablet S is scheduled for US release on September 16th.
The tablet weighs in at 21oz (598g), which is a bit heavy for a device with a 9.4" screen. Also, the tablet features a 1 GHz dual core Tegra 2, which may not be much of a difference in CPU speed to the 1.2 or 1.5 GHz SoCs we've seen, but the GPU is definitely slower, and that will definitely effect the Playstation branding on the tablet. Of course, the Playstation branding just means you can play PSX games, so the speed requirements aren't too high for that.
The Sony Tablet S has been getting some pretty good buzz in pre-release reviews, and Sony could certainly use a win in the mobile space. Sony's sister company devices in the Sony Ericsson Xperia series have had a history of delayed OS updates, and launching with outdated hardware. And, while the Tablet S has been getting some good previews, the hardware is a bit behind already, especially at the price point.
If you're interested in the Sony Tablet S, you can pre-order now through Sony and get a 16GB version for $499 or a 32GB version for $599.