Sony Tablet S Unboxing and Hands-on
18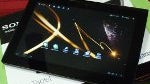 Even though they're well established in the smartphone world with their line of Xperia branded devices, Sony is trudging forward in the ever-growing competitive tablet market – with the hopes of striking a chord with picky consumers. Fresh into this rapid changing landscape, they're gunning to win over the crowd with their
PlayStation certified Sony Tablet S
. Priced at that ever so lovable price of
$499.99 for the 16GB model
($599.99 for the 32GB one), it's sure to meet the competition within the same playing field, but it's going to need more to stand out from a sea of crowded Honeycomb tablets.
Right off the bat, one of the first things to capture our attention with the packaging of the Sony Tablet S is the distinctive image of the tablet and the "
PlayStation Certified
" logo on it. Besides those two things, there isn't much in terms of information or specs found anywhere on the box – albeit, it features these motions of light pattern across its sides. Inside, we find the usual set of included accessories, such as the documentation, proprietary power adapter, and lanyard strap. However, we're scratching our heads in confusion seeing that it
doesn't
include a microUSB cable of some sort – especially when it features a microUSB port for connectivity.
Before anything else, we really need to commend Sony and its design team because it's so refreshing to see a tablet that goes
outside of the box when it comes to design
. Sporting an unconventional appearance, the tablet has this remarkably
solid feel
with its construction – even despite employing a mostly super glossy plastic shell. At the same time though, we're enthrall to find it very
lightweight
in the hand. To put it lightly, the Sony Tablet S is one invigorating tablet that's able to characterize itself with its unique design approach. Considering that it's rather difficult to innovate on the design side with tablets, we're astounded to see Sony hitting the mark on this one.
Well, another thing to capture our attention right off the bat is none other than its glowing
9.4" IPS display with TruBlack and BRAVIA technologies
, which elegantly impresses us with its
rich colors and detailed looks
. Some of its other hardware specs include a 1GHz dual-core NVIDIA Tegra 2 processor, 5-megapixel rear camera, front facing VGA camera, Bluetooth 2.1 with EDR, 802.11 b/g/n Wi-Fi, full sized SD card slot, and an infrared port that allows it to interact with some of Sony's other products. When it comes down to the platform experience, we find
Android 3.1 Honeycomb on board with Sony's "Quick and Smooth" interface
running on top. So far, it's a glitzy looking experience with all of its top-notch visual effects and transitions.
Priced competitively, there's no denying that the Sony Tablet S is going to get a lot of comparisons, but based on the quick look we're getting with it, they're definitely moving towards the correct direction. We'll be checking it out more to see how it handles, so expect to see our review down the road!