Sony Smartwatch 3 with new stainless steel wrist strap first look
21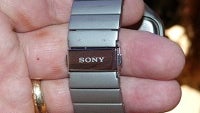 In the line-up of Android Wear devices, Sony's Smartwatch 3 has a number of features that its fellow wearables do not have.
On the style side, the Smartwatch 3 may not stand out in a crowd, that is, unless you opt for the newly announced stainless steel edition of the connected timepiece. At CES 2015, Sony announced the new addition to its Smartwatch 3.
Set to go on sale next month, it is amazing the difference a change in the wrist strap can make. Where the already available silicone strap does not endear itself to those who place equal value on form and function, the stainless steel band is certainly worthy of being worn for a night out on the town.
The Smartwatch 3 has its own GPS, NFC, and is the only Android Wear device that is Wi-Fi ready (which will be enabled sometime in the future). Sony has gone to great strides to work with partners to build apps that can be incorporated into the Smartwatch 3, including Golfshot, and iFit, each of which can work as standalone apps without the need for your smartphone to be around.
Pricing has not been officially announced, but we were told by Sony that when the Smartwatch 3 with the stainless steel wrist strap goes on sale, it will most likely retail for $299.99. For those that already bought a Smartwatch 3, it is a good thing the "watch" part can pop out of its strap, meaning you will be able to buy just the steel band if you so choose. Pricing for that as a standalone accessory has not been announced yet.
In addition to this new stainless steel strap, Sony is working on a new hub piece for the Smartwatch 3 what will work with any 24mm strap.
Aside from the new metal, the Smartwatch 3 is unchanged, with a 1.6-inch 320x320 LCD display, 420mAh battery, 4GB of storage, and Bluetooth 4.1. However, the aforementioned GPS, NFC, and Wi-Fi connectivity arguably put the Smartwatch 3 into a much better standing as Android Wear advances.