Sony S2 dual-screen tablet to appear on AT&T with 4G radio
1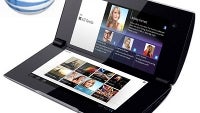 AT&T will be the exclusive U.S. mobile broadband provider for the
Sony S2
tablet, a dual-screen slate that Sony Corporation plans to launch later this year, the company announced in a press release. AT&T's version will feature an HSPA+ 4G radio, which is nice, but no launch dates or price ranges were specified.
It's good to see AT&T taking a chance with the Sony S2, which is actually a codename, and the tablet will most likely be called something else when it appears in AT&T's portfolio. It's a very innovative form factor and might wither be a flop, or turn out a very useful gadget, depending on how the software gets written for it.
Just a reminder - the Sony S2 tablet features
two 5.5" LCD displays
, and looks like a hard case for your glasses. Both displays have decent resolutions at 1024x480 pixels, and the whole thing is powered by an NVIDIA Tegra 2 chipset, which presupposes that Android Honeycomb will come standard, of course.
We can think of numerous ways for this thing to be useful, and the least of it is typing on a virtual keyboard on one display, while looking at our email app or browsing on the other screen. We are sure Sony is thinking of even more ways to differentiate the S2 from the Android tablet pack, so
come September
we might see those ideas in action already. Catch a quick glimpse of the Sony S2 in the video below.
source:
AT&T