Sony Ericsson to focus on few high-end models, tough year ahead
11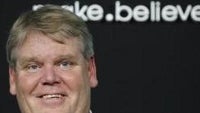 Sony Ericsson's man in charge Bert Nordberg is visiting Russia where the brand has traditionally held strong positions, but the message he has is not exactly optimistic. First off, Sony Ericsson will change its global strategy by
focusing more on high-end models
with longer software support (which hopefully translates into timely updates). The Swedish-Japanese joint venture will launch fewer of these products, one-man-news-service Eldar Murtazin
tweeted his own thoughts
on Nordberg's statements and visit.
Secondly, the company expects to see its
market share continue to dwindle in the next four to five quarters
. The financial results for the second quarter will swing back in the red for SE after the company managed to squeeze a profit in the last couple of quarters. In addition, the future lineup for 2012 is not yet clear, but due to lack of R&D resources a
total of 8 to 9 models with some variations are expected
. The cost cutting over at the company will continue as the company plans on
shutting down some of its regional headquarters
and we've been hearing rumors about Eastern Europe being one of the first places where this would happen.
Thirdly, Murtazin sums up his impressions of Nordberg's visit,
Sony Ericsson Xperia PLAY sales have been poor
and after the price for the handset was cut once after launch, a second price drop is expected in September. At the same time, SE will
focus on some key markets - the U.S., Russia, China and Germany
. Finally, the Russian blogger expects Nordberg to resign next year. We would take all of this information with a pinch of salt as these seem to be merely Murtazin's thoughts after the blogger got some new information from SE's CEO visit in Motherland, but they do sound close to realistic. What are your views on the developments in Sony Ericsson in recent years? Feel free to let us know in the comments below.
source: Eldar Murtazin (
Twitter
)
Recommended Stories